Zimbabwe by the numbers: President Mugabe pressured to resign amid corruption, economic decline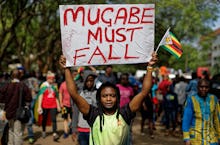 Zimbabwean President Robert Mugabe on Sunday resisted calls for his resignation, continuing the ongoing saga of the 93-year-old leader's tumultuous rule.
Earlier on Sunday, the country's ruling party, the Zimbabwe African National Union — Patriotic Front, had given Mugabe until Monday morning to resign, threatening him with impeachment if he did not meet its deadline. Though initial reports indicated he would, in fact, step down, Mugabe insisted during a live television address that he would stay in power, telling the nation he would preside over Zanu-PF's upcoming Congress in December.
The leader's defiance comes after an escalating series of events triggered when Mugabe fired Vice President Emmerson Mnangagwa — whom Zanu-PF appointed to succeed Mugabe — on Nov. 6, Reuters reported.
Mugabe was forced into house arrest Wednesday, which Reuters noted effectively ended his rule. Zanu-PF also expelled Mugabe's wife, Grace Mugabe, who was aiming to succeed her husband in the wake of Mnangagwa's firing.
Mugabe's resignation or impeachment would bring the ruler's nearly four-decade tenure in power to an end, much of which has been marked by corruption and economic decline. Here are the numbers behind Mugabe's potential ouster and the circumstances leading up to it.
37
Number of years Mugabe stayed in power. The president assumed office in 1980, after the country gained independence from British rule.
Tens of thousands
Number of Zimbabwean citizens who gathered in the city of Harare on Saturday to protest Mugabe. The event wouldn't have been possible prior to Mugabe's house arrest, the Guardian noted, as opposing the president publicly in Zimbabwe was typically "dangerous or even deadly."
"A week ago we wouldn't be doing this interview," rally attendee Regis Fungurani told the Guardian. "If we gave you our names or let you take our photo, Mugabe would have come for us, but now he is gone."
Two-thirds
The majority required in both houses of Zimbabwe's parliament to impeach Mugabe, according to the BBC. Though the opposition party has tried unsuccessfully to impeach Mugabe in the past, the BBC noted, a current impeachment vote would likely now have the support of Zanu-PF, which holds a significant majority in both houses.
5,000
Number of white farmers who had their land seized and redistributed to black farmers on Mugabe's orders, according to the Washington Post.
The land seizures, Sky News noted, led to a collapse of the agriculture-based economy in the country once known as the "breadbasket of Africa." Wheat production in the country declined from 325,000 tons in 1990, prior to the seizures, to 20,000 tons in 2016, according to Sky News.
The economic decline was cited as a reason for the outcry leading to calls for his resignation, according to the New York Times.
"Mugabe must go, we are sick and tired," Elizabeth Muzadzi, who attended Saturday's rally, told the Guardian. "I couldn't even go to my niece's funeral last week because I didn't have money for the bus."
80,000,000,000%
Zimbabwe's inflation rate in 2008 after governments suspended aid to the country due to Mugabe's brutal regime.
According to Sky News, the country declared inflation illegal in 2007 in response to the rapidly increasing inflation rate. The government arrested business owners caught raising prices, further impeding the economy's ability to grow. The government eventually went to a multi-currency system, which sparked a partial economic recovery.
72
Percentage of Zimbabwe citizens currently living in poverty, according to the Economist.
18 months
Length of a campaign for Mugabe's removal orchestrated by liberation war veterans leader Chris Mutsvangwa, according to Reuters.
"It's the end of a very painful and sad chapter in the history of a young nation, in which a dictator, as he became old, surrendered his court to a gang of thieves around his wife," Mutsvangwa told Reuters after the military takeover on Wednesday.
77
Number of high-ranking Zimbabwean government officials, including Mugabe, who were sanctioned by the U.S. in 2003 over accusations they had "undermined democracy" by its alleged rigging of a 2002 presidential election, "persecution of political foes" and land seizures.
"Over the course of more than two years, the government of Zimbabwe has systematically undermined that nation's democratic institutions, employing violence, intimidation, and repressive means including legislation to stifle opposition to its rule," former President George W. Bush said in the executive order imposing the sanctions, as quoted by CNN.
$16.3 billion
Zimbabwe's gross domestic product in 2016, according to Sky News. The rise in GDP, which was $8.4 billion in 2009, has been largely attributed to China, which accounts for half of all foreign direct investment in Zimbabwe and also provides a supply of hard foreign currencies to the country.
$1 billion
Amount Zimbabwe loses annually to corruption, according to a Transparency International report published in 2016.
The report cited "police, local councils, the vehicle inspection department that issues driving licenses and the education department" as being the country's primary offenders, according to Reuters.
Sky News, however, noted that economic corruption was likely present in higher levels of the government, too, citing Mugabe's wife — nicknamed "Gucci Grace" — and her elaborate spending. On one Parisian shopping spree, the Guardian reported, the soon-to-be former Zimbabwean first lady racked up a bill of 75,000 British pounds.