In a hostile tweet, Trump complains he should've left the UCLA basketball players in jail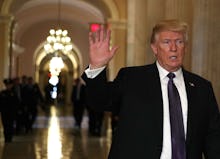 President Donald Trump hit back at entrepreneur LaVar Ball on Twitter on Sunday after the Big Baller Brand founder and CEO suggested the president didn't play a role in getting his son — University of California, Los Angeles, basketball player LiAngelo Ball — and his teammates released from China after their arrests on shoplifting charges.
In a hostile tweet, Trump said that because LaVar Ball was "unaccepting" of his generosity, he "should have left [them] in jail."
"Now that the three basketball players are out of China and saved from years in jail, LaVar Ball, the father of LiAngelo, is unaccepting of what I did for his son and that shoplifting is no big deal," Trump tweeted. "I should have left them in jail!"
Trump's tweet seems to have been spurred by an ESPN interview with LaVar Ball in which the entrepreneur argued the president had little to do with his son's release.
"Who?" LaVar Ball told ESPN when asked about Trump's role. "What was he over there for? Don't tell me nothing. Everybody wants to make it seem like he helped me out."
LaVar Ball also downplayed his son's shoplifting charges, saying "they try to make a big deal out of nothing sometimes."
"As long as my boy's back here, I'm fine," LaVar Ball told ESPN. "I'm happy with how things were handled. A lot of people like to say a lot of things that they thought happened over there."
The younger Ball, along with teammates Cody Riley and Jalen Hill, were recently caught shoplifting while in China for a game against Georgia Institute of Technology. Though the three potentially faced months in the country as their legal fates were decided, they returned to the U.S. on Tuesday after Trump reportedly spoke with Chinese President Xi Jingping.
Trump repeatedly took to Twitter to offer messages to the players, first complaining he hadn't been thanked for his actions before telling the players they should thank Xi and "have a great life."