Mic Wakeup: The biggest stories you missed from a busy, busy Sunday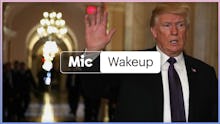 Some say Mondays are bad. Others say Mondays are good. Whatever your opinion on America's most hotly contested issue, rest assured: We've got you covered. Here are three stories to get your Monday started.
Petty POTUS
In one of his pettiest tweets yet, President Donald Trump took entrepreneur LaVar Ball to task for his remarks minimizing the president's role in helping return his son and two teammates to the U.S. after their arrests in China on shoplifting charges. What did Trump tweet, exactly? As with all Trump's tweets, you have to see it to believe it.
Russell Simmons accused
Model Keri Claussen Khalighi shared her #MeToo story with the Los Angeles Times over the weekend, alleging that when she was 17, entrepreneur and producer Russell Simmons forced himself on her at his apartment. With the accusation, Simmons becomes the latest powerful man in America to be accused of sexual misconduct. Read the full story here.
Sen. Susan Collins inscrutable on tax bill
In what's becoming an all-too-familiar refrain for Republicans hoping to pass a pivotal piece of legislation, all eyes are GOPers who could potentially stop tax reform from passing. Though it was previously unclear how Sen. Susan Collins (R-Maine) would vote on the upcoming Senate Republican tax bill, she was unequivocal in her demands during an appearance on CNN's State of the Union on Sunday.