Hype List: What to check out this week, including 'She's Gotta Have It' and 'Call Me By Your Name'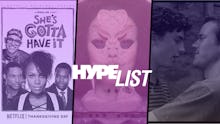 Welcome to the Hype List, a weekly recommendation series in which columnist Tirhakah Love highlights all of the pop culture happenings — movies, music, television, books and more — you need to know about.
TV: She's Gotta Have It
Throughout his decades-long career, acclaimed filmmaker Spike Lee has been criticized for his less-than-stellar portrayals of women onscreen. Now, the director has a rare chance to right a few wrongs via his new Netflix series, She's Gotta Have It, which is based on his 1986 feature-length debut of the same name. The 10-episode show remains centered on Nola Darling (played here by DeWanda Wise), a resilient, albeit struggling, visual artist living in the gentrifying Brooklyn neighborhood of Fort Greene, who shuffles through three male suitors vying for her love.
But thanks to the bigger canvas that a five-hour TV series provides, Lee's able to give his ideas more room to breathe — and that means emphasizing not just the omnipresence of the male gaze, but also the psychological effect that gentrification is having on Nola's creative work. Assembled by a writers room rich with female voices (including Lee's wife, She's Gotta Have It executive producer Tonya Lewis Lee), the show offers a more realistic look at the complications of a being a black woman in a world that still feels like it's dominated by white men.
She's Gotta Have It will be released Thursday on Netflix.
Comic: Doomsday Clock
Forget Justice League — DC's most anticipated release of the year is upon us in the form of Doomsday Clock, a 12-issue limited series that connects the DC Universe to the world of Alan Moore's 1986 masterpiece, The Watchmen. Long story short: In 2016, it was strongly hinted at that Doctor Manhattan — a godlike character who's one of the most iconic from The Watchmen — was responsible for messing with the continuity of the DCU; it was basically a clever way for the comic publisher to explain away one of its many misguided reboots.
In the months since, creators have confirmed Doctor Manhattan's role in restructuring the entire DCU and promised that Doomsday Clock will feature a showdown between him and Superman. Trust us, a crossover event between big-name superheroes and characters from The Watchmen (which is itself a critically beloved postmodern take on superheroes) is a big deal, and the fallout from this series will undoubtedly rippled throughout DC Comics. This is a can't-miss event for longtime comic fans and newcomers alike.
Doomsday Clock will be released Wednesday via DC Comics.
Movie: Saving Capitalism
While one might be on the fence about whether capitalism is even worth saving at this point, former Secretary of Labor Robert Reich is committed to the task. This new documentary follows Reich as he tours his 2015 book, Saving Capitalism: For the Many, Not the Few, across the country, visiting conservative hotbeds and parts of America that are hurting the most economically.
The film reunites the author with director Jacob Kornbluth — the two previously teamed up for the 2013 doc Inequality for All, which itself was based on Reich's 2010 book, Aftershock: The Next Economy and America's Future — and tries to diagnose the unrest that's flowing throughout our nation. Through town-hall dialogues and conversations with ordinary citizens, Reich and Kornbluth probe the fears, anxieties and hopes that are coming to define our times.
Saving Capitalism will be released Tuesday on Netflix.
Music: Utopia by Björk
Björk's ninth studio album, Utopia, is so cheerily full of love it's startling — especially coming after 2015's mournful Vulnicura, which dealt with the avant singer's breakup with her partner of many years, artist Matthew Barney. But, indeed, Björk is back with her longest LP to date, a work that she's described as her "Tinder album" — a tag that makes the record feel both current and hopelessly romantic.
Utopia's first single, "The Gate," is a layered orchestra of string and bird chirps that melds dreamlike serenity and electric eeriness. To the artist, those birds sound like "R2-D2," which, of course Björk would say something like that. Their inclusion on a lead single proves that, even if she's making a love record, Björk's still as heady and innovative as ever. Utopia sounds plenty welcoming.
Utopia will be released Friday via One Little Indian Records.
TV: Marvel's Runaways
Marvel's Runaways is a show for folks who like their superhero stories to be relatively light on the superheroics. Instead, this wonderfully diverse Hulu series — which follows a group of superpowered teenagers and is based on the comic created by writer Brian K. Vaughan and artist Adrian Alphona — is first and foremost a teen drama. And that makes sense, given the pedigree; Josh Schwartz and Stephanie Savage, the creators behind The O.C. and Gossip Girl, are the showrunners on this project, which is the latest to come out of the Marvel Cinematic Universe's TV stable.
The premise is simple but clever: a bunch of kids realize their parents are supervillains, and a cross-generational power struggle breaks out. Playing more like The CW's Riverdale than FX's art-house superhero drama Legion, Runaways foregrounds the drama between the teens and the parents, slowly unraveling each character's secrets at a considered pace. It's already been deemed the "best-realized" Marvel show of this current TV season and looks to be a standout from the superhero pack.
Marvel's Runaways will premiere Tuesday on Hulu.
Movie: Call Me By Your Name
Armie Hammer and Timothée Chalamet star in this beautiful adaptation of André Aciman's 2007 award-winning novel of the same name. Hammer plays Oliver, a student who's spending the summer of 1983 living in Italy with the family of a professor he's assisting. There, he meets the professor's 17-year-old son, Elio, played by Chalamet, and the two embark on a tender romance that helps them both understand their respective ideas about love and sexuality. Director Luca Guadagnino captures their summer romance with a pristine lens, all gorgeous sunlight and natural gloss. The Oscar talk has (rightfully) already begun; Call Me By Your Name is the prestige romance to see this season.
Call Me By Your Name will be released in theaters on Friday.