Leigh Corfman, who accused Roy Moore of molesting her as a child, says a "weight has been lifted"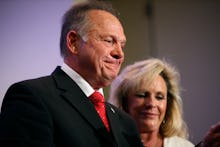 Leigh Corfman, who accused Alabama Republican Senate nominee Roy Moore of molesting her when she was 14 years old, said a weight was lifted from her after she decided to speak out.
"I feel like a weight's been lifted," Corfman said on NBC's Today, her first television interview since she came forward with her story. "I've had huge support, which I can't say how important that has been, and I've had a lot of people who have came out and said that because of my courage they've been come out to do the same."
Corfman described what she says Moore did to her when she was 14, saying he tried to "seduce" her.
"He took me to his home. After arriving at his home, on the second occasion that I went with him, he basically laid out some blankets on the floor of his living room and proceeded to seduce me, I guess you would say," Corfman said.
"During the course of that, he removed my clothing. He left the room and came back wearing white underwear," Corfman continued. "He tried to get me to touch him as well, and at that point, I pulled back and said that I was not comfortable, and I got dressed and he took me home."
Corfman said the incident impacted her life for decades.
"It took away a lot of the specialness of interactions with men," Corfman said. "It took some trust away. It allowed me to delve into some things that I wouldn't have otherwise. It took years for me to regain a sense of confidence in myself, and I felt guilty. I felt like I was the one that was to blame. And it was decades before I was able to let that go."
Eight women have now accused Moore either of sexual assault or of trying to date them when they were teenagers. The flood of accusers has imperiled Moore's Senate bid, as a number of Republican lawmakers and GOP groups have abandoned his candidacy.
Moore, however, denies the allegations. He says he doesn't know the women and has questioned their motives for coming forward decades later in the height of his Senate campaign.
Moore's supporters have gone as far as to suggest the women were paid to make the allegations.
Corfman addressed those allegations head-on in her interview on the Today show.
"It's very simple really. I did tell people," Corfman said. "My family knew, family friends knew, my friends knew. I spent a lot of time, every time he came up, railing against him and what he had done to me when I was 14 years old."
"I wonder how many me's he doesn't know," Corfman added.
She said that she had debated coming forward publicly years ago, but that she was a single mother with young children and decided against it.
Corfman also said she discussed whether to come forward publicly with her children when they were older, but she said that her children feared being ostracized in their friend groups, so she again chose to stay silent publicly.
It wasn't until the Washington Post came calling that she decided to come forward.
"When the Washington Post sought me out, I didn't go looking for this, this fell in my lap," Corfman said. "I told them that, at that time, the reporters who were all just wonderful to me, that if they found additional people that I would tell my story. And they found those people."
Corfman was also asked about her politics, given that Moore is saying this is a political witch hunt.
"My politics?" Corfman said, "Well I've voted as a Republican for years and years and years. But this isn't political for me. This is personal. It's very close to my heart."