Jeffrey Tambor says he likely won't return to 'Transparent' after allegations against him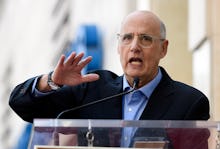 Transparent star Jeffrey Tambor has said he doesn't see himself returning to the Amazon show after allegations of sexual harassment were made against him. The 73-year-old actor denied the allegations on Sunday, but indicated in a statement that he would likely exit the show for good.
"Playing Maura Pfefferman on Transparent has been one of the greatest privileges and creative experiences of my life," Tambor said in a statement provided to Deadline.
"What has become clear over the past weeks, however, is that this is no longer the job I signed up for four years ago ... I've already made clear my deep regret if any action of mine was ever misinterpreted by anyone as being aggressive, but the idea that I would deliberately harass anyone is simply and utterly untrue. Given the politicized atmosphere that seems to have afflicted our set, I don't see how I can return to Transparent."
Early in November, Amazon confirmed that it had launched an investigation into Tambor after his former assistant, Van Barnes, alleged in a private Facebook post that a former boss had sexually harassed, propositioned and groped her.
Tambor denied any wrongdoing at the time, and called the allegation "baseless," telling Deadline that "a former disgruntled assistant of mine has made a private post implying that I had acted in an improper manner toward her."
Days after news of Barnes' allegations broke, Transparent actress Trace Lysette, who plays Shea on the show, said in a statement posted to her Twitter account that she had also been harassed by Tambor. In her statement Lysette wrote that "Jeffrey has made many sexual advances and comments at me, but one time it got physical," describing an incident in which she said he physically harassed her on set.
Transparent released its fourth season in September. Following the allegations against Tambor, the shows writers were rumored to be planning a way for season five to continue on without Tambor, Variety reported.