How LiAngelo Ball fell into Donald Trump's race trap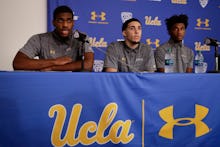 Details are still murky in the case of LiAngelo Ball, the 18-year-old University of California, Los Angeles, basketball player who was arrested in China earlier this month for shoplifting. Along with two of his other black teammates — Cody Riley and Jalen Hill — Ball was held Nov. 7 on suspicion of stealing a pair of sunglasses from a Louis Vuitton store, among other items.
The three players returned to the United States on Tuesday after President Donald Trump spoke to Chinese President Xi Jinping. It's unclear how large a role Trump played in their release. But Trump was unambiguous in his insistence on receiving credit and praise, taking to Twitter to seek public gratitude from the students.
"Do you think the three UCLA basketball players will say, 'Thank you President Trump?'" Trump tweeted on Wednesday. "They were headed for 10 years in jail!"
By getting arrested in China and apparently rescued by Trump, Ball and his teammates became unwitting pawns in the president's culture war on black athletes. The price of their salvation was deference to a man obsessed with lambasting people who look like them and share their occupation while being egged on by the white racists who compose much of his base.
The war's crux has been the protests sparked by Colin Kaepernick and continued by other mostly black NFL players. Trump has repeatedly called for these men to be punished for kneeling during the national anthem to oppose police violence and racism, stating most recently that Oakland Raiders running back Marshawn Lynch should be suspended for the rest of the season.
"Great disrespect!" Trump tweeted on Monday. "Next time NFL should suspend him for remainder of season."
More broadly, Trump has used these players to advance a narrative that has proven catnip for his followers — that black professional athletes who kneel are both ungrateful and unpatriotic. The United States granted them a rare opportunity to transcend the life their caste otherwise had in store for them, Trump's logic goes. They may be millionaires today, but only because America generously allowed them to be.
As such, any dissent these players level against the nation's hallowed symbols can be read as a special form of blasphemy. Raging against black dissidents in sports is Trump's way of reminding them of their place in society. Politico published an article about the downtrodden, mostly white Trump voters of Johnstown, Pennsylvania, the day after the UCLA players were arrested, that illustrates the sentiment.
"Tell [the reporter] what you said the NFL is," one interviewee goads another.
"Niggers for life," the other says.
"For life," the first affirms.
Ball, Riley and Hill weren't just facing time in a Chinese prison when they got detained. As African-Americans and athletes, they also risked becoming emblems of America's toxic racial power play. The United States is notoriously unforgiving when it comes to black imperfection. Sam Dubose made the mistake of fleeing police in Cincinnati and got shot in the head for his troubles. Walter Scott made the mistake of running from Officer Michael Slager in North Charleston, South Carolina. He was rewarded with several bullets in his back.
Now, here were three young black men who made the same kind of lapse that has cost countless black men and boys their lives. With Trump's involvement, they became the proof of his premise: Haughty Negroes who stepped out of line but were redeemed by their country's powerful standing, and rescued from their damned lot by one of America's most hallowed institutions, no less — the presidency.
That the United States is responsible for the racial caste system that hindered their rise to begin with goes unacknowledged, as is the fact that black misery and death are far more routine than the black transcendence that these athletes symbolize. Trump has been able to paint his role in the UCLA players' return as that of a powerful benefactor who held their fate in his hands. When Ball's father, LaVar Ball, downplayed Trump's involvement, the president made it clear how easily he could have made a different decision.
"I should have left them in jail!" Trump tweeted Sunday.
That Trump sought to make a spectacle of the players' shame and salvation seems especially telling in light of the Ball family's prominence. LaVar, LiAngelo's father and the family patriarch, has made a name for himself flouting the norms of polite society. A loud and dedicated trash talker, he boasts frequently about his three sons being destined for NBA stardom (his eldest, Lonzo, was drafted No. 2 overall by the Los Angeles Lakers in June).
LaVar also stars in a reality TV show on Facebook focused on the family, which details lavish vacations to Hawaii, signature sneakers for Lonzo and 16-year-old son LaMelo, and Lamborghinis given as birthday gifts. If any black sports figures seemed ripe for being knocked down a peg, it was LaVar Ball and his progeny. The China debacle — based on the outlook of Trump and his base — is an example of how quickly it can all be snatched away, and how the decision rests ultimately in the hands of powerful white men.
This is a mark of how rigged the whole arrangement actually is. True racial equality means the right to imperfection. It means the same basic protections should be doled out to black people as whites without the latter's reception being framed as a privilege, and without their criticism of ongoing inequality being dismissed as ingratitude. As Jelani Cobb detailed in the New Yorker in September, there is nothing particularly new about Trump framing black athletes as ingrates. The real surprise is that it took him nine months into his presidency to mine a topic so rich with race-baiting potential.