A year-old video shows Trump has stayed more focused in his first year than you might think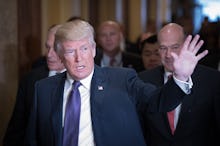 Welcome to Mic's daily read on Donald Trump's America. Want to receive this as a daily email in your inbox? Subscribe here.
Monday's dispatch: Trump's constants: immigration, trade and big business
A year ago, then President-elect Donald Trump released a video outlining his goals for his first 100 days.
Trump promised to withdraw the United States from the Trans-Pacific Partnership; end Obama-era environmental regulations; investigate abuses of worker visas; protect U.S. infrastructure from attack; impose lobbying bans on government employees; and cut regulations.
Trump outlined relatively easy goals to accomplish, most of which were not his most notable or controversial campaign promises. After his inauguration, the stroke of the president's pen advanced the six priorities Trump spoke of in the video.
But the topics Trump addressed in that video, along with the promises he did not mention, ended up previewing the year ahead. He focused on trade, immigration and executive action in his video. He did not mention health care, infrastructure investment or taxes. That essentially sums up the past 365 days.
Many of Trump's core campaign promises remain unfulfilled. The Affordable Care Act remains intact, though Trump has worked to sabotage it. Tax reform has passed the House, but as health care did, the legislation faces a tough road in the Senate. There has been little movement on infrastructure or building a wall between the U.S. and Mexico.
Meanwhile, Trump has stayed consistent on trade. He pulled the United States out of the TPP. He also pulled the U.S. out of the Paris climate agreement, another international deal he has criticized. Trade deals with North American countries and South Korea are also on the chopping block.
On immigration, Trump went further than many were expecting a year ago. He tried repeatedly to effectively ban immigration from several Muslim-majority countries. He ended Deferred Action for Childhood Arrivals — though he says he'll preserve the program if Congress agrees to fund his border wall. Trump's administration has aimed to lower the number of refugees coming to the U.S. while making it more difficult for immigrants to obtain visas.
Much of Trump's activity on trade and immigration has come through the power of being president. As of October, Trump had signed more executive orders than any president in the last 50 years. That has largely meant holding a friendly line with major industries, from coal to drug companies, with Trump rolling back numerous Obama-era policies and appointing people across the government with backgrounds at big companies.
Despite minimal success in Congress, beyond the confirmation of a Supreme Court justice, Trump has consistently advanced an anti-free trade, anti-immigration, pro-big business agenda. And he's going even further than his predecessor did with executive power to enact his agenda.
Today's question: Read the previous paragraph again. Is that what you would have expected a year ago?
Please email your thoughts to trumpsamerica@mic.com.
This week in Trump's America:
Congress is not in session. But Republicans are hard at work trying to secure votes for tax reform. Trump will spend Thanksgiving at Mar-a-Lago in Palm Beach, Florida.
Tax reform: The headline from the Washington Post that scares all Republicans: "Democrats see backlash over Republicans' tax bill as a key to winning in the suburbs." House Republicans from New York and New Jersey voted against the bill last week that could lead to people in their high-taxed states having larger tax bills.
One Republican senator, Ron Johnson of Wisconsin, has come out against the Senate tax plan Majority Leader Mitch McConnell (R-Ky.) hopes to vote on after Thanksgiving. Five other Republicans have not taken a solid position on the bill yet. But the opposition of at least one more senator appears likely.
Sen. Susan Collins (R-Maine) said Sunday the repeal of the ACA's individual mandate in the Senate tax plan is "the biggest mistake." She and Sen. Lisa Murkowski (R-Alaska) — the two GOP senators who were long opposed to this year's ACA repeal and replace efforts — appear the most likely to break against this proposal, which would kill its chances of passage.
Opioids: The White House now says the cost of the opioid epidemic two years ago was more than $500 billion. That's a six-fold increase from the previous estimate.
Roy Moore: The Alabama Senate special election is about three weeks away. But the three largest newspapers in Alabama all ran editorials on Sunday atop their front pages calling for voters to "reject Roy Moore" and vote for Democratic Senate candidate Doug Jones.
Alabama Gov. Kay Ivey said Friday she believes Moore's accusers but will vote for him anyway.
Worth remembering! "Here are all the times Donald Trump has been accused of sexual assault." Trump has still not weighed in on the Moore controversy.
"I should've left them in jail!" Trump tweeted his anger at the father of a UCLA basketball player. Trump said LaVar Ball "is unaccepting of what I did for his son" after the president worked to secure the release of three UCLA players caught shoplifting in China. They were released on Tuesday. All three players thanked Trump on TV.
Al Franken: Democrats in the senator's home state of Minnesota are calling for him to resign after Franken was accused of sexual assault and groping.
Russia investigation: Special counsel Robert Mueller's team is staying busy through the holidays by requesting Department of Justice documents to determine whether Trump sought to obstruct justice by firing former FBI Director James Comey.
The Washington Post reported the Trump administration is divided about how serious the findings will be in the Russia probe.
Trophies: Trump decided Friday to postpone a decision that would have allowed the importation of elephant trophies from two African countries to the United States.
Under the radar:
Scott Pruitt: Politico reviews how the controversial head of the Environmental Protection Agency has changed the focus of a department from aggressively protecting the environment to letting industry take the lead.
Sex scandals: In Florida, top political officials are stepping down as affairs and sexual harassment allegations have coming to light.
ICYMI: Here's why a Democratic wave election is brewing in 2018.
Today's MicBite:
Robert Reich does an op-ed for Mic about how to impeach Trump. Tap or click the video below to watch.