Madonna, Rihanna, Lady Gaga, Mariah, Kim K and more pay tribute to the late designer Azzedine Alaïa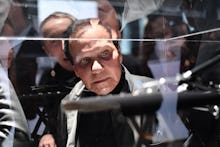 On Saturday, famed Tunisian-born couturier Azzedine Alaïa, considered by many the "last great craftsman of fashion," died at 82, according to the New York Times, 77, according to the Los Angeles Times, of a heart attack.
Not afraid to call out establishment elite from Anna Wintour (who he famously said "no one" will remember) to Karl Lagerfeld (who he remarked "never touched a pair of scissors in his life"), and unwilling to conform to the fashion week calendar, Alaïa's pendulum of talents often swung heavily toward the creative, heavily avoiding the weight of industry-centric pressures.
He dressed everyone from Michelle Obama to Lady Gaga to Grace Jones over the course of his 60-year career, which began with a stint at Christian Dior.
"He did not have to kowtow to the fashion world, because the fashion world (and the art world and the literary world and the music world) came back to him," the New York Times's Vanessa Friedman noted in a remembrance published on Monday. "His work was so singular, they had no choice. And you could argue that only a designer of his rare talent could ever take the stand he did. But he would probably say, 'How would you know? Since no one else is given the time to figure out if they have the talent, too.'"
Over the weekend, celebrities, many of whom had close personal relationships with the designer, known for his warmth, humor and appreciation of women, paid their respects on social media.
"Such sad news to wake up to today and all I can do is look at photos and videos of happier times with one of the gentlest, feistiest, most loving and adoring talents I have known, inside or outside the fashion industry," wrote supermodel Christy Turlington. "I will miss your light in the world so much and am sending love to all who did not get a chance to say goodbye."
"The way he dressed a woman's body was such a revelation to me as a young model in Chicago because his designs embraced my curves," wrote supermodel Cindy Crawford. "One of the very first designer pieces I ever bought myself was one of his famous body suits with a skin tight skirt to match in a gold knit fabric, from Ultimo in Chicago. Worn with an Alaïa belt cinching in my waist, I felt like a million dollars. What an honor it was to model for him only a few years later in Paris at his atelier. He made all of his models feel beautiful and the fashion world will never forget him."
"No one understood the body of a woman more than you," supermodel Naomi Campbell, who referred to Alaïa as Papa, wrote. "That made us feel good about ourselves inside out. You did all the fatherly duties my unknown father should have. You ignited happiness to all whom were around you, from dancing in the kitchen to playing practical jokes. You protected me and loved me unconditionally. I'm eternally grateful to you the day you picked up the phone and called my mother to tell her you were taking me in. Papa until we meet again on the other side, I know you will continue to guide me, and always be in my heart."
"A true artist, genius and master," wrote designer Marc Jacobs. "He was always kind, friendly and supportive of me. He welcomed me when I first came to Paris. We had some great adventures and many good times. His talent is unparalleled and his playful character generous, naughty and wickedly unique. The exceptional beauty he created is timeless and will without question — live forever!"
Designer Victoria Beckham called him "one of [her] biggest inspirations."
Designer Brandon Maxwell called Alaïa "the golden standard, the greatest that will have ever been," adding: "Since I've started as a designer, I've often been asked the question, who do you look up to the most? The answer will forever be, Azzedine Alaïa."
Lady Gaga, issued a series of Instagram posts and tweets.
"I'll mourn forever the loss of my friend," she wrote on Instagram "A true genius in not only fashion but in his heart. He was a king and had the highest standards of design and work ethic. He was so giving, so loving, his heart so full and pure. I'd watch in awe as he hand made each and every piece, his fingers touching the fabric like poetry. Then he would want to feed us all, and cook with his own hands and talk for hours at the table while his dogs would run around joyfully smelling the delicious food he made us. To say he was special would be an understatement. To say he was integral, important and influential to fashion is simply not enough. There was no one who did what he did. No one knew a woman's body like him. He should be celebrated as one of the greatest fashion designers the world has ever known."
Gaga went on to wear not one, but two Alaïa looks during the American Music Awards red carpet on Sunday night.
Rihanna posted a photo of the pair mid-embrace, noting that Alaïa "will live on forever."
Mariah Carey shared an affectionate photo with the designer calling him a "genius" and an "incredibly kind man."
Ava DuVernay noted his embrace of women of color as models and muses "when others did not."
Kim Kardashian West, a noted fan of the designer, called him "simply the best." Her sister Kourtney Kardashian called the designer a "kind legend," noting the honor she and her sister had in spending time with him.
Madonna thanked him for his work, his soul and the laughs the two shared together.
Nicki Minaj paid tribute by saying the designer who "could do no wrong in [her] eyes."
Designer Lenny Kravitz called him both a "genius" and a "legend" who "marched to his own beat at all times."