Trump suggests NFL should suspend Marshawn Lynch for kneeling during national anthem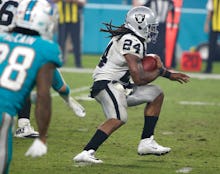 President Donald Trump has called upon the NFL to suspend Marshawn Lynch after the star Oakland Raiders running back took a knee during the national anthem at Sunday's game in Mexico City.
Photographs from the game show Lynch first kneeling for the U.S. national anthem, and then standing up for the playing of Mexico's anthem. On Monday morning, Trump took to Twitter to blast the decision.
"Marshawn Lynch of the NFL's Oakland Raiders stands for the Mexican Anthem and sits down to boos for our National Anthem," Trump tweeted. "Great disrespect! Next time NFL should suspend him for remainder of season. Attendance and ratings way down."
The tweet marked the latest installment in Trump's vendetta against the NFL players who have elected to kneel during the national anthem in peaceful protest of the police brutality that disproportionately affects people of color in America.
Earlier this year, in the aftermath of the deadly violence that occurred at a white nationalist rally in Charlottesville, Virginia, the president called upon NFL team owners to suspend players that refused to stand during the anthem during a fiery speech to his supporters.
"If a player wants the privilege of making millions of dollars in the NFL, or other leagues, he or she should not be allowed to disrespect ... our Great American Flag (or Country) and should stand for the National Anthem," Trump told the crowd. "If not, YOU'RE FIRED. Find something else to do!"
The Monday missive marked Trump's second tweet criticizing black athletes in as many days. On Sunday, Trump criticized three UCLA basketball players who had been accused of shoplifting in an airport in China of being ungrateful for his diplomatic interference.
"Now that the three basketball players are out of China and saved from years in jail, LaVar Ball, the father of LiAngelo, is unaccepting of what I did for his son and that shoplifting is no big deal. I should have left them in jail!" he wrote.