Hungry New Yorkers have lost out on 223 million meals because of food stamp cutbacks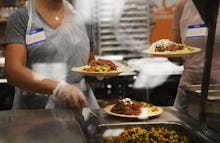 New York City is known for its culture, impressive skyscrapers, diversity and cuisine — rarely do people associate the city that never sleeps with hunger. But a new report from Food Bank For New York City reveals that there has been a rise in residents who don't have access to quality food, compared to the national rate. New York City's food insecurity rate is 21% higher than the national rate and 19% higher than New York state's rate. The report also said that community-based emergency food providers (e.g. soup kitchens and food pantries) cannot fill the void from the federal government funding cuts for anti-hunger initiatives.
In November 2013, the federal government reduced funding for the Supplemental Nutrition Assistance Program (known as SNAP, formerly known as food stamps). The government had temporarily increased funding for the program to help Americans after the 2008 recession, and the increase was scheduled to end in 2013.
According to the Center on Budget and Policy Priorities, SNAP helps "families to bridge temporary periods of unemployment or family crisis." Around 41.2 million Americans live in food-insecure households, and 1.7 million New Yorkers receive SNAP benefits. The government increased funding for SNAP after the 2008 depression,
"When low income residents are pinched, purchasing food becomes a lower priority, behind rent and other daily expenses," Triada Stampas, vice president for Research and Public Affairs at Food Bank For New York City, said in an email. "And when benefits like SNAP are cut, more people become reliant on emergency food providers like food pantries and soup kitchens, which are the last backstop for people in need." The cuts mean that New York City has not been able to serve around 223 million meals since November 2013.
Stampas said that demand for emergency food is "the canary in the coal mine" since it's "one of the first signals that people are struggling to make ends meet."
Critics of SNAP say the program is abused by fraudulent people who take advantage of the system that's funded by taxpayers. But research shows the federal program is actually good for the economy — for every dollar in SNAP spent, $1.70 is generated in economic activity. In New York City, this effect is even greater: Food Bank For New York City estimated that every dollar of SNAP generates $1.79 in economic activity — or the buying, producing or selling of goods and services. The organization noted that due to SNAP cuts, the city has lost out on roughly $1.3 billion in economic activity.
The Farm Bill, which includes legislation on a range of food and agriculture-related issues, factors into the future of SNAP and other food accessibility programs — and the current administration will sign a new Farm Bill into law in early 2018. Food Bank For New York City hopes this legislation streamlines SNAP enrollment and increases the program's capacity to last people through the end of each month, Stampas said. The organization also wants the federal government to invest more in our nutritious food supply.
Stampas noted that higher wages and better earned income tax credit, a refundable tax credit for low-income people, could help combat the need for emergency food. The tax reforms put forward by the current administration would not address earned income tax credit — moreover, some of the major provisions would exclude low-income families who need help the most, Center on Budget and Policy Priorities noted in October.