Thanksgiving is over. The season for awkward political conversation isn't.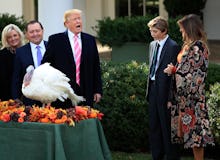 This Thanksgiving, Americans across the country sat down at the dinner table with their loved ones for turkey, stuffing — and possibly some awkward political conversations.
As Donald Trump's polarizing presidency continues to divide Americans on party lines, a new poll conducted by the Global Strategy Group has revealed that politics is driving Americans apart — but there are some topics on which both sides can mostly agree.
The poll, which surveyed 1,000 registered voters nationwide between Oct. 23-25, revealed that the 2016 election has had a profound impact on the way we engage with each other, particularly those on the other side of the aisle. Forty-six percent of respondents, including 34% of Republicans and 57% of Democrats, said that the 2016 election has "negatively affected the relationships they have with friends and family who support the opposing party."
Similarly, a large number of voters — 71% of Democrats and 68% of Republicans — say that they outright "avoid discussing politics with friends or family members who support the opposing party." That lack of engagement isn't just limited to conversations with friends and family: 69% of respondents (67% of Democrats, 71% of Republicans) said, "They are tempted to stop engaging in politics because it is so divided and partisan."
So as Americans spend time with their families and friends this holiday season, is it possible to bridge the partisan divide? Americans' loyalties to their parties are strong, the poll revealed, with 91% of Democrats and 86% of Republicans believing that their party should block the opposing party's agenda when they believe it's "bad for Americans."
Yet there is a desire for bipartisanship, as nearly all respondents on both sides of the aisle (87% of Democrats and 90% of Republicans) expressed a desire to see their elected officials and party leaders in Washington reach across the aisle to get things done.
To help Democrats reach across the aisle, the GSG survey identified two groups of conservative voters with whom it might be more possible to find some common ground: disillusioned Trump voters, who are from both parties and are "not very enthusiastic" about Trump's presidency; and disaffected Republicans, or "Republicans who are not very enthusiastic about Trump and not favorable towards Republicans in Congress."
These groups, the survey revealed, make up a sizable share of voters. Twenty-four percent of the electorate, along with 46% of Republicans and 23% of Independents, are classified as disillusioned Trump voters, while disaffected Republicans make up 32% of Republicans and 12% of the total electorate.
For those hoping to make conversation with those holding opposing political views this holiday season, the poll also revealed that there are some topics favored by liberals that garner more support from Republican and Independent voters than expected.
Sixty-seven percent of Americans, including 53% of disaffected Republicans and 71% of Independents, for instance, are inclined to be in favor of supporting women's health organizations like Planned Parenthood and other organizations that push for equality in the workplace. Only 33% of respondents said they instead believed that providing federal funding to Planned Parenthood and similar institutions "oversteps the boundaries of our government and interferes with regular American families and businesses."
More than any other topic, though, there is one easy point on which both sides can largely agree: Trump's tweets.
Though there are some — 28% of respondents, including 30% of disaffected Republicans and 39% of disillusioned Trump voters — who believe that Trump's use of Twitter has "brought a new level of accessibility to the presidency," most Americans on both sides of the aisle don't support the president's Twitter addiction. Seventy-two percent of all respondents — including 77% of Independents, 70% of disaffected Republicans and 61% of disillusioned Trump voters — responded that they agreed Trump's tweets are "frequently inappropriate, unpresidential and hurt our country's standing among the rest of the world."
So while Trump's use of Twitter to harass his opponents, spread false information and unintentionally declare war on North Korea has earned him few fans, now that Thanksgiving is over, at least it will give Americans something to bond over during the upcoming December holidays.