Joe Manganiello talks fashion, football, fitness, 'Magic Mike' and his possible Marvel-to-DC pivot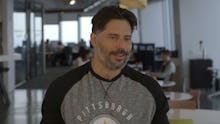 Actor Joe Manganiello is a big fan of his hometown of Pittsburgh — like, a really big fan. I can relate, having been born and raised in not just the same city, but the same town. We even attended the same high school, albeit a few years apart.
I can recall gathering with a crowd outside the Denis Theatre on Washington Road in Mt. Lebanon, Pennsylvania, for the premiere of 2002's Spider-Man to see our hometown hero's big-screen debut as Flash Thompson opposite Tobey Maguire's Peter Parker. All this to say, I share a unique affection for Manganiello and his undeniable love for and embrace of the certain kind of grit many of us Pittsburghers adopt at an early age.
As a newly minted fashion ambassador for the National Football League — which he also has deep affection for, at least based on his Instagram account — Manganiello stopped by Mic's headquarters to talk about his great love of the game, what his new title entails and more.
This interview has been edited and condensed for clarity.
On walking for the Global Down Syndrome Foundation's "Be Beautiful, Be Yourself" fashion show:
"It's a charity that's close to my heart. Growing up going to Mt. Lebanon High School in Pittsburgh, [they] had a TV studio and I used to borrow cameras and I would make my own movies. The person who ran the studio when I was there, her sister had Down syndrome and they were really great friends of our family; we used to spend holidays together. [There] would always be a big party every year and I would see her sister, Carol, who was my buddy. Carol lit up a room. She was always so happy and so energetic and she was actually a really great painter. She passed away a couple of years ago, so when I was contacted by the Global Down Syndrome Foundation and able to go and help raise awareness and raise money, it was a no-brainer for me because I had this personal connection."
On becoming the NFL's official fashion ambassador:
"I'm a die-hard Pittsburgh Steelers fan, which you know how that is when you're from that city. My wife [actress Sofia Vergara] would always say things to me like, 'You know the Steelers aren't a fashion brand,' because I would wear them head-to-toe around the house all day, and now I get to say to her, 'No, they are.' The NFL's really stepped up their game this year and started using the tri-blend cotton and fun fabrics to wear as opposed to big, thick, boxy, burlap-y shirts that we had growing up. You want to stand out when you have more Super Bowl titles than any other team."
On describing Steeler Nation to the uninitiated:
"You ride or die with that team. Sunday decides how the rest of your week is gonna be. All of us from Pittsburgh, we're so emotionally invested in that team. I think that goes all the way back to the '70s, because when you had a city like ours that was so depressed economically when those mills closed, the morale of the city was really kept alive and the culture was held up above the team's head and carried through that depressed time until we could find a new identity in a lot of ways that other Rust Belt cities haven't. I think a lot of people still associate Pittsburgh with being blue-collar. We're not anymore, but our personality is, and I think we've kept those great personality traits alive from that time of depression all the way to now, when we're flourishing but we're still blue-collar, hardworking, don't-be-an-idiot [type of people."
On finding time to work out and maintain his title as one of Men's Health's 100 Fittest Men of all Time:
"You just do it. Arnold [Schwarzenegger] always says, 'You have to learn how to sleep faster.' People say, 'I don't have the time, I have this going on, I have that going on,' and I think I've got a lot of things going on, too. The guy that wrote the forward to my book was the governor of California — that's a pretty busy job, but you can still find an hour to [work out]. I say to people, 'There's absolutely time. If you wanna do it, you'll make time for it.' We're actually getting ready to launch an app in January that works with your iPhone, and it does everything from count your rest periods for you, track your workouts, track your weights. It also has a database of videos to use, so when [you want to] exercise, a video [of me] will pop up and my trainer teaches you all the tips so you can know what proper form is."
On the possibility of a third Magic Mike film:
"Maybe when we're, like, 70."
On his favorite experiences from Magic Mike and Magic Mike XXL:
"Spending every night after shooting with Stephen Soderbergh. We'd sit for hours and he would tell me stories about the business and everybody, every studio. He taught me what to stand for ... which is the preservation of the creative, and to always fight for that."
On whether he had an inkling that 2002's Spider-Man would usher in a new wave of superhero films:
"I don't think anyone really predicted that the opening weekend was going to break the record, but I knew it was going to be huge. You could tell on set that what we were doing was something really special. It makes me feel old, 'cause I was in one of the first ones and the fact that there's been two reboots of Spider-Man since, and there's been other Flash Thompsons. Boy, I'm old now."
On the possibility of (spoiler alert:) his emergence in the DC cinematic universe:
"If something were to come my way, in that way, I would happily accept it. I was a fan of DC comics and I'm a big fan of Geoff Johns' Batman: Earth One, which was a really great series. For anyone who's a comics fan who hasn't read it, I highly recommend it."
Watch Manganiello's full interview with Mic below: