Leading progressive groups call for Sen. Al Franken to resign over sexual assault allegations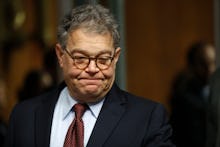 Leading progressive organizations called on Monday for Sen. Al Franken (D-Minn.) to resign his Senate seat after another allegation that he groped a woman several years ago.
Credo, an organizing group with 5 million members, and Indivisible, a national network of 6,000 grassroots groups, called for Franken to resign after a woman told CNN the senator grabbed her buttocks while taking a picture with her in 2010.
That followed an allegation on Thursday that Franken forced a woman to kiss him while practicing for a comedy skit in 2010. Leeann Tweeden, a Los Angeles radio host, also tweeted a photo of Franken groping her while she was asleep.
Franken said Thursday he welcomed an ethics probe into his conduct, something that was demanded by senators of both parties after the allegation went public.
"Sen. Al Franken had the chance last week to take full responsibility for past sexual harassment, sexual assault and any other behavior that demeaned women," Credo said in a statement first shared with Mic. "He failed to do so. Credo is committed to standing with women who speak out, holding perpetrators accountable and working to change the systemic and institutionalized misogyny that lets these behaviors continue without consequence.
"We believe that Sen. Franken should immediately resign from the U.S. Senate and that Gov. Mark Dayton should appoint a progressive woman to replace him."
On Twitter, Indivisible wrote: "Senator @alfranken should be held accountable and he should resign."
Ultraviolet, a progressive women's rights group, was the first of these organizations to call for Franken to resign. Ultraviolet made that demand on Thursday.
A number of groups that endorsed Franken in his last Senate bid, in 2014, have not yet called for him to step down. NARAL Pro-Choice America, an abortion-rights group that has stood by Franken for years, condemned his alleged behavior in a tweet last week but is not calling for his resignation.
The Human Rights Campaign, which also endorsed Franken in 2014, condemned the senator's alleged behavior but has not yet called for his resignation. A spokesman said the Campaign's position remained the same on Monday. "It's time all of us said enough," the group's president said on Twitter last week.
Requests for comment from Mic to other notable progressive groups, including Planned Parenthood Action Fund and Everytown for Gun Safety, were not immediately returned.
This story will be updated if other organizations call for Franken's resignation.