Turkey bans events hosted by LGBTQ groups from its capital city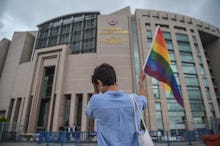 Officials in Turkey's capital city of Ankara have indefinitely banned all events hosted by LGBTI rights groups in a move one advocacy group called "a disgraceful breach of the freedom of assembly," the Associated Press reported Sunday.
The ban took effect Saturday, according to the AP, and applies to any gathering or event hosted by an LGBTI group, including film screenings, panels and performances. According to the BBC, the new ban was in direct response to a German-language gay film festival, Pink Life QueerFest, that had been scheduled to take place in Ankara and was sponsored by the German Embassy.
According to the BBC, officials warned the film festival "could incite grudges and enmity toward a part of society" and might become a target of terror groups.
"Suggesting that these screenings could be provocative or targeted by terror groups only goes to legitimize those people and institutions that produce hate speech toward us and see our existence as a threat," Pink Life QueerFest organizers said in a statement translated by the BBC.
The International Lesbian, Gay, Bisexual, Trans and Intersex Association's European chapter, which includes Turkey, said on Twitter the new rules were "a further example of shrinking space for LGBTI civil society."
In an emailed statement, Human Rights Campaign Global Director Ty Cobb said that that the organization was "outraged by news out of Turkey that the governor of Ankara has imposed an indefinite ban on all LGBTQ film screenings, panels, exhibitions and other public events.
"These events are not a threat to public security, as the governor falsely claims," Cobb said. "This ban takes away safe spaces for the LGBTQ community, and deprives the larger community of opportunities to learn about the needs of the LGBTQ community." Cobb called on the governor to lift the ban "immediately."
According to CNN, LGBTI rights groups in Turkey are challenging the new ban as illegal and discriminatory. Homosexuality is legal in Turkey, but activists and advocates continue to face scrutiny and hostility from Turkish officials.
Despite a ban on gay pride parades in Istanbul, Turkey, LGBTQ activists and allies marched and celebrated in June, which is unofficially recognized as LGBTQ Pride Month. Istanbul police responded by breaking up the crowds with tear gas, rubber pellets and water cannons.