Playful Promises defends its decision to use gender-fluid model Violet Chachki in latest campaign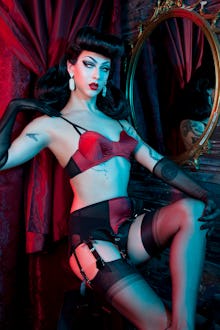 Last week, Violet Chachki made history or — err, herstory — as the first drag queen to land her own lingerie campaign. In the campaign for Playful Promises, Chachki posed in the brand's Bettie Page lingerie looking like the iconic pinup herself, with bullet bras and her hair in victory rolls.
"I think the industry is taking the gender conversation and all of these identities seriously now," Chachki said in an interview with Mic. "It may be a bit of a trend, and it'll be interesting to see if it sticks around and how seriously its taken in the next few years. But for people who identify as gender fluid, campaigns like this can be important."
Generally, the response to the campaign has been positive. On Playful Promises' Instagram page, commenters wrote things like, "I'm going to need a set of each," and "YAASSSSSS," underneath pictures of Chachki.
But after seeing Chachki misgendered by some people, Playful Promises is explaining why exactly having her model is important to the lingerie industry and beyond.
"Things you need to know about why we chose Violet Chachki to model our new range of Bettie Page Lingerie," Playful Promises tweeted out on Monday. "1. Violet is gender fluid. We did not choose 'a man.' We chose a gender-fluid person that is not represented in the media, and certainly not in the lingerie industry."
And with that decision, Promises is standing up to a pinup culture centered solely around a certain kind of cis woman.
"We also chose to use a non-binary model because the vintage/pinup community has certain issues with gender (also racism, but that's another thread)," Promises wrote.
"Often, there's an implication that women who had less agency and freedom are 'better' than women now," Promises continued. "A non-binary model raises questions about how we view pinups of the past, and how we talk about images of women today."
By casting Chachki, Promises was also able to make a statement how the lingerie industry often caters to the male gaze, with its ad campaigns and imagery in particular.
"So many lingerie campaigns are created with the male gaze in mind. Less so than 20-30 years ago, but it's still there," Promises wrote. "What does using a nonbinary model who is not a cis woman, shot by a woman, wearing lingerie created by women, say to you about the male gaze?"
What it says, to us, is that Playful Promises is a company that doesn't give a rip about the male gaze or catering to it. Looking at the lingerie industry as a whole, that's incredibly refreshing.
Ending this tweet thread Monday, Promises wrote that it remains incredibly proud of this campaign, and of Chachki.
"Finally, were extremely proud of this campaign, we're extremely happy with the feedback," Promises wrote. "Violet looks stunning always and... her style is so closely aligned with everything Bettie that it's a match made in heaven."
We'd say it is too.