Hong Kong's dessert subculture: Why young locals choose sweets over drinks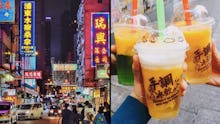 Dining rituals are a serious matter in Hong Kong. A typical breakfast takes place at a cha chaan teng (tea restaurant), where menu items range from black tea with evaporated milk to shrimp roe noodles and frosted pineapple buns the size of your head. Dim sum is a citywide morning tradition. But if there's one meal that wins the award for most creative, it's dessert.
Traditional Cantonese desserts include black sesame soup and glutinous rice balls sprinkled with peanut powder. For travelers, especially those with a sweet tooth, discovering the city's vast network of dessert dispensaries — from cramped takeout counters to trendy cafes with table service — is like hitting the jackpot.
In Hong Kong, dessert is entirely a nocturnal pursuit. Walking around after dinner, you'll see big groups of friends piling into communal tables or waiting in line outside tiny, hole-in-the-wall places that serve the best variations on mango pudding (the star of the Hong Kong dessert canon; chilled mango pudding is served year-round). But unlike in the U.S., where dessert is seen as a post-meal guilty pleasure, here it's the main event.
"Our shops stay open until midnight," said Fung Lai, marketing manager at Wise Bro, a chain of dessert cafes in Hong Kong specializing in fruit-based fare like longan sorbet and durian milkshake custard. He agrees that the customers who frequent Wisebro — young folks in their 20s and 30s, mostly female — aren't really interested in bars or nightclubs. "Dessert cafes," he said in an interview, "are for friends to chill out, chat and go home sober."
Clarence Liu, a communications manager at the InterContinental Grand Stanford Hong Kong hotel, agrees. "[Dessert] is a way to extend the time you spend with your friends," he said in an interview. After dinner, he and his friends will meet up at their favorite dessert cafe, and order an assortment of items to share, family-style.
Since Hong Kong is too dense to accommodate the piazzas and plazas of Italy and Spain, dessert cafes fill the role of a trusted gathering space, where the table is laden with rainbow-hued sorbets, creamy puddings, gummy mochi, and steaming bowls of tong sui (sweet soups). For Hong Kong's young crowd, dessert cafes are a place to take their minds off things, stay out late and avoid the rowdiness that accompanies alcohol-fueled venues. (While bars are popular in areas like Lan Kwai Fung, many of those places cater to westerners and expats, while dessert cafes are frequented almost exclusively by Hong Kong natives.)
What makes these places so fun, of course, is the actual dessert. At Ching Ching, a dessert cafe located on Electric Road in Tin Hau, the menu is long and the atmosphere relaxed: dwarf-size stools are clustered around tables, there's a colorful bamboo shade painted with the shop's logo and a half-hidden kitchen in the back is lined with tubs of powders and other mysterious sweeteners. With so many options to choose from, there's strength in numbers. For instance, if one diner orders "soy pudding with mixed bean soup," another will opt for "soy sheet soup," which is entirely different, and tastes a little like fresh ricotta: creamy, mild and melt-in-your-mouth. (The "soy sheet" is actually the skin that rises to the top of soy milk when you boil it, similar to Japanese yuba.)
There are other temptations on the menu, like tong yuen (sweet chewy rice balls) drowning in custard sauce and a sweet herbal tea with lotus seeds and — unexpectedly — a hard-boiled egg floating in the middle of the bowl. Like a lot of Chinese cooking, food often serves a medicinal function, and the lotus seeds are supposed to be beneficial if you're pregnant.
For adventurous dessert-lovers in Hong Kong, the next wave of dessert cafes offer fun twists on Cantonese originals. Yum Cha, a popular dim sum restaurant with three locations in Central and Kowloon (all of which stay open until 10:30 p.m.), encourages customers to play with their food — the signature "hot custard molten bun" appears to spew golden custard from its mouth when you poke a chopstick into it. (Needless to say, the googly-eyed bun is a hit on Instagram; the kitchen goes through 6,000 of them per week.)
Some pastry chefs have taken a more experimental route. The desserts at Tate Dining Room, an upscale, Zen-like eatery on Hollywood Road with a secret cake shop downstairs, border on abstract art. For example, one honey-themed creation arrives inside a wooden bee hive, with removable sections that reveal white chocolate honeycomb slabs, French madeleines filled with honey and passionfruit marshmallows. A built-in speaker plays the sound of buzzing bees. In Hong Kong, where dessert can dictate the course of an evening, Tate's masterpieces are a feast for both the stomach and the eyes.