Democratic Rep. John Conyers settled a lawsuit from a staffer who claimed sexual harassment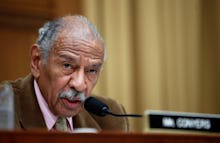 Rep. John Conyers (D-Mich.), the longest-serving member of Congress, settled a lawsuit in 2015 in which he was accused of firing a staffer who didn't "succumb to [his] sexual advances," according to a bombshell report from BuzzFeed published Monday night.
According to BuzzFeed's report, the female staffer — whom it did not name — said Conyers asked her for sexual favors in a hotel, including asking her to touch his penis. The female staffer also alleged that Conyers wanted her to stay with him in his hotel room on a fundraising trip, and when she refused he told her to "just cuddle up with me and caress me before you go."
"Rep. Conyers strongly postulated that the performing of personal service or favors would be looked upon favorably and lead to salary increases or promotions," she said in the documents BuzzFeed obtained.
The female staffer ultimately settled her complaint with Conyers, in exchange for over $27,000 and her silence, after a secretive legal process with Congress' Office of Compliance, according to documents reviewed by BuzzFeed.
The Office of Compliance has paid $17 million in settlements to 264 federal employees over a 20-year period, according to the Washington Post. Some of the settlements were for sexual harassment.
Three other staffers in Conyers' office submitted affidavits that showed a pattern of harassing behavior from Conyers, BuzzFeed reported.
A male employee said he witnessed Conyers touching the former staffer who settled with Conyers in "a sexual manner" — and confronted Conyers for it, according to BuzzFeed.
"Rep. Conyers said he needed to be 'more careful' because bad publicity would not be helpful as he runs for re-election. He ended the conversation with me by saying he would 'work on' his behavior," the male staffer said in the affidavit, according to BuzzFeed.
Another former female staffer said she had to coordinate meet-ups with women who she assumed Conyers was having affairs with.
"One of my duties while working for Rep. Conyers was to keep a list of women that I assumed he was having affairs with and call them at his request and, if necessary, have them flown in using congressional resources," the female staffer wrote in her affidavit obtained by BuzzFeed.
A third female employee said in an affidavit that she had to coordinate similar meet-ups with women.
"I was asked on multiple occasions to pick up women and bring them to Mr. Conyers['] apartment, hotel rooms, etc.," the female staffer said in her affidavit, according to BuzzFeed.
Conyers office did not respond to BuzzFeed's request for comment.
But he's the latest man, and latest politician, accused of sexual harassment.