More sexual misconduct allegations rock Washington and state capitals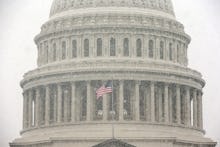 Welcome to Mic's daily read on Donald Trump's America. Want to receive this as a daily email in your inbox? Subscribe here.
Tuesday's dispatch: Sexual misconduct in the halls of power
Monday brought another accusation against Sen. Al Franken (D-Minn.) and a new report about Rep. John Conyers (D-Mich.), the longest serving member of the House, making sexual advances toward congressional staff.
Franken was accused of groping a woman while taking a photo with her in 2010. Two of America's largest progressive groups on Monday called for him to resign.
Conyers allegedly fired a female employee because she would not give into his sexual advances. That was reportedly covered up in 2014 by a settlement that kept what happened from going public.
Meanwhile, Alabama GOP Senate candidate Roy Moore is trying to lay low. His first accuser, Leigh Coffman, appeared on NBC's Today Monday to tell her story.
New York Times White House reporter Glenn Thrush was accused in Vox of unwanted kissing, groping and advances by former co-workers and other women. CBS This Morning and PBS late night interview host Charlie Rose was accused by multiple women in the Washington Post of unwanted sexual advances.
Rose and Thrush have been suspended.
Outside of Washington, 40 lawmakers across 20 states have been accused of sexual misconduct in the past year, USA Today reported. A California Democratic assemblyman was accused by six women in the Los Angeles Times of sexual assault and harassment. He said he will resign.
The buzz: This is the tip of the iceberg for political America.
Today's question: How important is it to you that these stories about people in political power are made public?
Please email trumpsamerica@mic.com with your thoughts.
Tuesday in Trump's America:
Been saying this for months! Democrats and Republicans are both worried a showdown over the future of DACA recipients will lead to a government shutdown next month.
At least a couple dozen House Democrats have said publicly they will not vote to fund the government without an immigration deal. Republicans are worried they'll anger their conservative base if they strike a deal allowing previously undocumented immigrants to stay in the United States.
Trump Foundation: President Donald Trump is closing his charitable fund. The foundation came under scrutiny last year after the Washington Post found Trump never made many contributions from the foundation he said he did — and often used the nonprofit to benefit him financially.
Net neutrality: It's happening. Ajit Pai, the conservative commissioner of the Federal Communications Commission, is expected to reveal plans on Tuesday that would cut Obama-era rules that guarantee fair treatment of websites by internet service providers — and could make accessing your favorite sites and apps more complicated and expensive.
AT&T vs. Justice: The Department of Justice has filed a lawsuit to prevent AT&T from buying Time Warner. The deal would have placed CNN under the control of a massive media company, something that reportedly irked Trump.
Keystone pipeline: Nebraska regulators approved the pathway of the Keystone XL pipeline through the state on Monday, just days after a section of the pipeline leaked 200,000 gallons of oil.
Kellyanne Conway: The Trump adviser and campaign manager said Monday that voters should still support Roy Moore, despite the allegations against him.
North Korea: Trump declared North Korea a state sponsor of terrorism, triggering new sanctions against the isolated country.
Under the radar:
TPS: The Trump administration said Monday protected residency status for 59,000 Haitians living in the U.S. will end, and they must leave the United States by July 22, 2019. Many came to America after a 2010 earthquake devastated the Caribbean island.
Today's MicBite:
With the FCC looking to roll back net neutrality rules, watch Mic's explainer from earlier this year about why the issue should matter to you. Tap or click the video below to watch.