There are 8 million themes to pick from, so why does Victoria's Secret constantly use culture?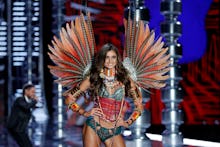 At the Victoria's Secret Fashion Show, you can count on a few things: svelte models in lingerie, billowy waves of highlighted hair, an unimpressive musical performance and outfits that make you think, "Wait. Hold on. Is that cultural appropriation?"
You see, at every show, there are different segments with different themes involving lingerie, extravagant outfits and wings. A few models may come out in outfits that look sporty, followed by models that look like butterflies. But one recurring theme that continuously pops up is basically "culture."
During this year's show, which filmed Monday in Shanghai and will air Nov. 28, there was a segment called "Nomadic Adventure" and it had outfits that looked awfully tribal and Native-inspired.
This is odd for a number of reasons. One is that VS has gotten slammed for doing this very thing several times before. In 2012, Karlie Kloss was heavily criticized for wearing a large Native American-inspired headdress during the show.
This year, model Nadine Leopold wore a similar outfit, with a headdress that again looks similar to a traditional war bonnet, which is worn in Native American tribes and symbolizes bravery.
Just last year, after a slew of uninspired Asian-inspired get-ups went down the runway (one of which had a white model wrapped in a dragon), VS was slammed again.
VS was also called out that year for a segment called "Exotic Traveler" that basically had models in beads, jewels and vaguely appropriated prints walking down the runway.
This devotion to appropriation is odd too because there are roughly (and we counted) 8 million themes you could choose from that would not hint at cultural appropriation. Like, here are a few:
Flowers
Pajamas
Movies
Sports
The '20s
'40s pinups
The '80s
The '90s
Rihanna through the ages
Beyoncé through the ages
Barbra Streisand through the ages
Madonna through the ages
Cute animals
Pirates that aren't Johnny Depp
Thanksgiving side dishes
Thanksgiving main dishes
Basically, think of a party theme, and there's a good chance it's a theme that could work for the VS show and not offend anyone. Although the other segments during the show appear to be unproblematic, with themes like "Porcelain Angels," "Millennial Nation," "Punk Angels" and "Goddesses," it's just baffling.
This was a show that was being championed for being the most racially diverse in its history, and yet the brand decided to try the culture card again at this show with mostly white models walking down in outfits unconnected to their own culture.
Between this and the continuing lack of plus, curve and transgender models, it's a flop.