The problem with the letter female 'SNL' staffers wrote in support of Al Franken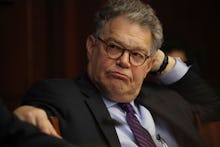 A group of 36 women who worked with embattled Sen. Al Franken (D-Minn.) on Saturday Night Live issued a letter Tuesday morning expressing support for their former colleague — the comedian-turned-lawmaker accused by two women of sexual misconduct.
"We feel compelled to stand up for Al Franken, whom we have all had the pleasure of working with over the years on Saturday Night Live," the letter says. "In our experience, we know Al as a devoted and dedicated family man, a wonderful comedic performer and an honorable public servant."
While acknowledging that what Franken did was "stupid and foolish" and that he was right to apologize for his actions, the women wrote "not one of us ever experienced any inappropriate behavior" in years of working with him, and said they appreciated he "treated each of us with the utmost respect and regard."
"We send our support and gratitude to Al and his family this Thanksgiving and holiday season," the letter states.
Letter downplays Franken sexual misconduct claims
Franken has been accused of "aggressively" kissing sportscaster Leeann Tweeden without her consent during a rehearsal for a skit in 2006 and later groping her while she slept.
Lawmakers immediately called for an ethics investigation, and Franken apologized for his behavior, saying he let women down and is "committed to making it up to them."
On Monday, a second woman named Lindsay Menz came forward with more allegations against Franken, saying he groped her buttocks while they posed for a photo together at the Minnesota State Fair in 2010.
The scandal has cast Franken's future in the Senate into question — and comes at a moment of reckoning in American culture over sexual abuse by powerful men.
The women of SNL who signed onto the letter of support for Franken included ex-writers, behind-the-scenes staff and two performers, Laraine Newman and Jane Curtin. No current staffers or cast members signed it. Franken was one of the show's original writers in 1975, and was a producer for 10 years from 1985 to 1995.
The letter would seem flip under any circumstances, given the seriousness of the allegations against Franken but seems especially tone deaf in the cultural landscape, in which a growing roster of prominent male public figures — spurred by bombshell reports about producer Harvey Weinstein in October — are being held accountable for years of unchecked sexual misconduct.
In not only downplaying the accusations against Franken, but thanking him for his "honorable" service, the letter seems to be swimming against a powerful cultural current that has, in recent weeks, dramatically changed the way it responds to allegations of abuse.
The alleged misconduct by Weinstein, actor Kevin Spacey, comedian Louis C.K. and journalist Charlie Rose have all been characterized as having long been open secrets in their respective industries — but the men were allowed to continue their abusive behavior by having those allegations dismissed as "rumors" or by systems that protected them and silenced their accusers.
But those powerful figures have faced real consequences — including, in some cases, legal scrutiny — in recent weeks amid a new charge to trust accusers and empower them to come forward.
Still, it has proved difficult for some to believe accusers and hold alleged abusers' feet to the fire when they have a personal attachment to the accused.
Girls creator Lena Dunham, who had previously said women need to be believed when they make accusations of sexual assault, came under fire over the weekend for defending a man who wrote for her HBO program who was accused of raping actress Aurora Perrineau in 2012 when she was 17 years old. Dunham and co-showrunner Jenni Konner originally said they were "confident" Girls writer Murray Miller was one of the "3% of assault cases that are misreported every year," before Dunham walked back her support following a tidal wave of backlash.
Additionally, it has proven easier for some to stand strong against sexual misconduct when it is politically convenient to do so.
President Donald Trump — who has faced numerous accusations of sexual misconduct himself, including rape — has refused to condemn conservative Alabama Senate hopeful Roy Moore over allegations of child molestation, but was quick to slam Franken, a frequent critic of the administration, on Twitter after Tweeden went public with her experience.
Democrats have also been scrutinized for so far declining to give a full-throated rebuke of former President Bill Clinton, who was accused of sexual abuse in the 1990s and has remained a revered public face of the party in the decades since.
Outside of politics, comedians have been criticized for failing to be as tough on Louis C.K. — who is widely regarded as one of the most influential comics of his era and is friends with other powerful industry figures — as they have on others who stand accused. Hollywood figures like Woody Allen and Bryan Cranston have publicly sympathized with Spacey and Weinstein, whose careers have cratered amid the groundswell of allegations against them. And, of course, there are now 36 female former SNL employees defending Franken because, as they wrote in their letter, they haven't witnessed any wrongdoing in their personal experience.
Still, the story of the last several weeks has also been the examples of high-profile figures reckoning with the abusive behavior of those in their own ranks.
A long list of Republicans have called on Moore to withdraw from the Alabama Senate race, and party leaders have said they will move to expel him if he wins the special election in December. A growing chorus of voices on the left are calling for Franken, once seen as a potential Democratic candidate for president in 2020, to resign. And, in what is perhaps a sign that Democrats are ready to reckon with the allegations against Clinton, Sen. Kirsten Gillibrand (D-N.Y.) — herself a potential 2020 contender — said on Thursday that the former president should have been forced to leave the White House over his alleged sexual misconduct.
On Tuesday, CBS This Morning's Norah O'Donnell and Gayle King issued strong, emotional statements calling out their former co-host, Rose, who was suspended from the program in the wake of the allegations against him at the time of the airing, and has since been fired.
"There is no excuse for this alleged behavior," O'Donnell said.
"Charlie does not get a pass here," King added. "He doesn't get a pass from anyone in this room ... he doesn't get a pass because I can't stop thinking about the anguish of these women."
And while Franken may still have the support of former SNL colleagues, the current cast took him to task in this past weekend's episode.
Speaking on Weekend Update, which Franken frequently contributed to during his time on the program and was once a candidate to host, anchor Colin Jost said that while the photo of Franken smirking as he gropes Tweeden's breasts "was taken before Franken ran for office ... it was also taken after he was a sophomore in high school."
"It's hard to be like, 'Come on, he didn't know any better, he was only 55,'" Jost said.
"I know this photo looks bad," Jost quipped. "But remember, it also is bad."