How to be Thanksgiving chic: A guide to the perfect loungewear for your inevitable bloat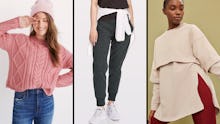 Few things are more inevitable after Thanksgiving dinner than feeling both glorious, full and complete, yet also like utter and complete trash.
You're proud of yourself because you've just gorged on your favorite foods — mashed potatoes, sweet potatoes, turkey, pie — but you also feel like trash because you've gorged on your favorite foods for, like, two hours.
It's a sweet and dangerous little game we all play, as a country.
Given that bloating and meat sweats are both definitely inevitable on Thursday, we've compiled a list of some of the clothing items we think could help ease you through this emotional and physical journey. This is the one holiday where wearing something constricting or tight is delusional, so let's just embrace that.
Elastic-waist pants
This idea that elastic-waist or drawstring pants look lazy is a myth. At many retailers now, they can look clean and tidy enough to roll into the office.
Uniqlo's a good place to start, with fleece and tailored sweatpants that don't make you look like you're wearing pajamas. They're also less than $30. Uniqlo's got a pair of totally business-appropriate elastic-waist pants too now on sale for less than $30.
The Gap and H&M have good elastic waistband options as well.
Just straight-up leggings
So if you're going to a super casual thanksgiving, then slipping into some solid (please no see-through) leggings is honestly perfectly fine. Paired with a longer shirt or blouse, you can pull it off.
There are a few places that do leggings-that-don't-look-like-leggings very well. One of them is H&M which stocks something called a "tregging," which is a legging and trouser combo. It's got about 90 different treggings to choose from, so really take your pick.
Zara's got a pair of leggings with gold appliqué that look quite festive too, and its entire leggings collection really is solid.
A chic sweatshirt
If you live in a cooler climate, honestly you can just wear a very nice sweatshirt and get away with it. We're fans of Ivy Park sweatshirts, because it tells everyone at the dinner table that if they talk badly about Beyoncé, they should be prepared to fight.
A really cozy sweater
If sweatshirts are too casual for your Thanksgiving gathering, than maybe a chunky, cozy sweater would do the job.
Over at Madewell, there's currently a ton of them. This cable-knit pink one is v. cute, as is this one that would perfectly match a pumpkin pie. Target's solid on the cozy sweater front also, and J.Crew is too. We personally like this green cardigan with sparkles.
As far as shoes, well, do yourself a favor and don't wear heels if you don't have to. This is a day of comfort. Celebrate that.