Leyna Bloom calls out the Victoria's Secret Fashion Show for its lack of trans and plus-size models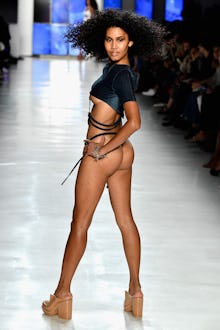 Since pictures of the 2017 Victoria's Secret Fashion Show, which was filmed on Monday and will air on Nov. 28, have now leaked, we know that yet again the show had zero curve or plus-size models. Despite a definite effort to be more racially diverse this year, size diversity and gender diversity continued to be ignored.
Model Leyna Bloom, who's walked for Chromat and made history by being the first transgender model of color in Vogue India in October, is now lending her voice to the many others who are fed up.
"All these women of color in the VS Fashion Show that's amazing right. But they still have way more white girls," Bloom wrote on Twitter on Monday. "It's like every time they added a woman of color they added another white girl. Next year they need to cast trans and curve models all colors not just caucasians."
A similar sentiment was shared by model Ashley Graham as well, with her posting a picture of herself, edited to make her look like she was wearing Victoria's Secret's signature wings on its infamous runway.
"Got my wings!" she announced, with the clarification, "My Addition Elle wings!"
Unlike Victoria's Secret, Addition Elle caters to women sizes 12 to 26. Graham's had a longtime habit of openly wanting to walk for the Victoria's Secret show as well. After TMZ asked her about the potential of her walking in the show in 2016, she responded: "I mean, when Victoria's Secret calls me and asks me to be on their runway I'm gonna say yes."
On Bloom's Instagram story on Monday, though she again reiterated how white the show still is and the total lack of size diversity and transgender models, she did congratulate the models of color for walking that runway.
"On some real shit, congrats to all the women of color in the VS show," she wrote. "I'm so proud of you ladies. Please use your platform to give back to other women in our community. You have been a part of something very big. Don't forget all the people that prayed to be in your sport. It was only a dream yesterday, today you get to live it."
Maybe after all the respect Victoria's Secret got for having a racially diverse cast in 2017, the company will wise up when it comes to other kinds of diversity.