Netflix's 'She's Gotta Have It' reboot isn't worthy of a Thanksgiving binge session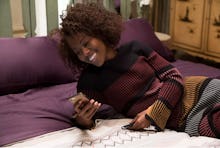 In case that headline wasn't enough of a tip-off, I'll just come right out with it: I didn't like Spike Lee's TV reboot of She's Gotta Have It.
The 10-episode series, which premieres Thursday on Netflix, is basically a longer, technicolor version of Lee's mostly black-and-white feature-length film released in 1986. DeWanda Wise beams as Nola Darling, the carefree, sex-positive visual artist who juggles three male suitors — Jamie Overstreet (Lyriq Bent), Mars Blackmon (Anthony Ramos) and Greer Childs (Cleo Anthony) — and one lady bae, Opal Gilstrap (Ilfenesh Hadera). Nola knows #BlackLivesMatter, she hates that her beloved Brooklyn neighborhood, Fort Greene, is gentrifying and, like many young artists, she's struggling to pay her rent.
So, yes, She's Gotta Have It got the 2010s update, but the series is largely a boring rehash of the original with a few additional plotlines to make the whole thing timely for today's young audiences. At moments, the series seems to genuinely tap into our present culture, but it mostly lacks the vibrancy and pure hilarity of other TV shows that have featured black women over the past 30 years — like Issa Rae's Insecure, Mara Brock Akil's Girlfriends and Yvette Lee Bowser's Living Single, among others.
The idea for the 21st-century update came from Tonya Lewis Lee, the series' executive producer and Lee's wife. Out of eight credited scribes in the show's writers' room, four were women: Radha Blank (Empire), Lynn Nottage (Sweat), Eisa Davis (Passing Strange) and Joie Lee (Crooklyn). Lee wanted to ensure women were involved in the storytelling for authenticity's sake — perhaps an acknowledgement of how some people read the film's gender politics — but, ultimately, Lee kept control. He wrote and directed the 1986 film and directs all of the Netflix episodes; he also wrote the first and final episodes.
"From the beginning, I knew I wanted to direct all 10," Lee said in a recent Rolling Stone interview. "This is my baby — this is my first infant. If somebody's going to fuck it up, it'll be me. Nobody else."
Perhaps if Lee had farmed out the producing and directing duties to others — namely, young black women producers and directors — She's Gotta Have It might've actually been an enlightening watch. Of course he's going to be involved with a TV adaptation of one of his films; but maybe he could've simply directed the episodes he wrote. It would've been pretty damn cool if Lee had given black women the opportunity to take the reins in episodes two through nine, to paint Nola as they see her in living color, flaws and all. The original movie served as a vehicle for Lee to break into the film scene, so it would've been nice to see him pay it forward with this project.
There's no shortage of black female talent out there: Numa Perrier (co-founder of Black & Sexy TV) Jahmela Biggs (producer of the web series FIRST), Roni Simpson (co-creator of the web series Tough Love) and Andrea Lewis (creator of the web series Black Actress) are just some of the women who could've added 20- and 30-something perspectives to the series.
But that's not the show we got. In the reboot, Nola is a mixed-media visual artist, hoping to win a $15,000 grant named after sculptor Elizabeth Catlett. Nola's art explores "the black female form" and how black women are constantly defining, for themselves, what it means to be free. (In another move toward authenticity, Lee tapped Brooklyn-based artist Tatyana Fazlalizadeh to create the portraits and serve as an art consultant.)
"Some people call me a freak, and I hate that word," Nola says in an opening monologue that matches nearly word-for-word a monologue spoken by the actress who first played Nola, Tracy Camilla Johns. "I don't believe in one-word labels. But what ya gonna do? Ya feel me?" The speech, along with several other straight-to-camera moments, is clearly dated and in Lee's voice. (Who uses the term "freak" in 2017?)
But there is some growth in the TV series. One big difference between it and the film is that Lee did not include the rape scene from the original. A few years ago, he said the scene was his biggest regret.
"I was immature and I hate that I did not view rape as the vile act that it is," he told Deadline in 2014. "I can promise you, there will be nothing like that in She's Gotta Have It, the TV show, that's for sure."
Instead, the series turns its focus to street harassment. At the end of the first episode, Nola is assaulted by a stranger who grabs her arm after she refuses to answer his persistent catcalling. The incident inspires her to put up posters around the city featuring faces of black women with the words "My Name Isn't" block-printed in red. Some posters finish that thought with "bitch," "sweetie," "psst" and "mamacita," referring to the sorts of catcalls women deal with on a daily basis. It's a project similar to Fazlalizadeh's own anti-street harassment campaign, "Stop Telling Women to Smile," which she launched in 2012.)
One difference where the show comes up short, though? The film is centered on Nola's sexual freedom, but in the series, her romantic relationships are anything but intriguing. First, there's the simple fact that seeing a black, sexually liberated woman onscreen isn't as revelatory as it was in 1986. But the characters of Jamie, Greer and Mars are also near-replicas of the versions that appeared in the movie, so Nola's romantic life feels flat.
The performances are fine, but the characters seem to have time-traveled from a different New York City — like, say, when Ed Koch was still the mayor. Mars' unforgettable "please, baby, please" line survived the move to the small screen, as did his oversized black wireframe glasses and gold nameplate. Jamie's buttoned-up investment-banker vibe is preserved from the original. And Greer is just so self-involved, he'll make every single woman roll her eyes in disgust as he flaunts his assets — over and over and over again.
Mars, Jamie and Greer be damned, though, because Nola's female relationships are the most dynamic parts of this show. Her bonds with Opal, her on-again, off-again female lover, and Clorinda (Margot Bingham), her former roommate who once also dated Mars, are explored in earnest in comparison to how they were treated in the film.
An additional character, Nola's best friend Shemekka, is played beautifully by actress Chyna Layne. Her character's a waitress at a nightclub who dreams of being a performer; she wants to be a dancer like the women at the club where she works, and is ashamed of her little booty, especially as she watches those other women shaking their butts onstage. She's determined to get a larger butt to make her wishes come true and to better provide for her young daughter. For all the heart Lane gives to the role, it's still unfortunate that Shemekka's storyline is centered on butt enhancements — those scenes are, quite literally, too painful to watch. In the fifth episode, we actually witness Shemekka get butt injections in a seedy motel, in a scene that goes on for far too long.
In the final episode, as in the original film, Nola invites all of her male lovers to her house for Thanksgiving dinner. They eat, argue and take naps together in Nola's "loving bed." Then, text scrolls up the screen in the vein of a Star Wars prologue; it offers a definition of "da itis," that epic nap that befalls us after we fill our bellies with soul food.
This Thanksgiving, don't count on watching She's Gotta Have It to help you resist "da itis." The series will put you to sleep before the first episode's over.