The adorable 'Animal Crossing' smartphone game is the holiday escape you'll desperately need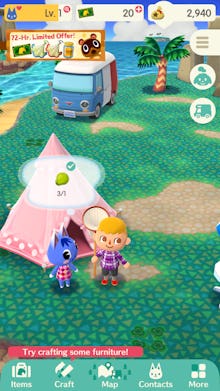 The holiday season is officially upon us, and that means being extra vigilant in maintaining your own well-being — in between shouting matches at the dinner table and elbowing strangers out of the way for a new Xbox, of course.
Luckily, Nintendo has come to the rescue, releasing a free, mobile version of Animal Crossing, a franchise best described as Nintendo's take on The Sims. Up until now Animal Crossing has lived exclusively on Nintendo consoles, so this new iPhone version should open things up to a whole new audience.
In this newest entry, Animal Crossing: Pocket Camp, you play the manager of a campground, completing tasks for the anthropomorphized animals that live in neighboring areas who talk in a garbled, nonsense language.
For example, one of the first tasks I had to do was collect some fruit for Goldie, a dog with floppy ears and a wiggly tail. Once I did that, a pair of fluorescent alpacas made me a new couch as a reward.
I'm assuming the couch they made me was dependent on the style of camp I selected — I had the option to choose a camp that was "cute," "natural," "sporty" or "cool." At first, I picked "cute," but that showed me a campground that looked a little too much like a Bath and Body Works, so eventually I settled on "natural." That yielded a bright blue, tufted couch with warm wood trim. I plopped it on the edge of a large, green patterned rug that covers a large portion of a wooden deck.
Ah, feel that? That's your blood pressure lowering.
The whole experience is designed to be nothing more than relaxed and charming. There's no dying. No brain-wracking puzzles. You just spend time in a cute, cartoony world, interacting with its characters and shaping your own little corner of land to your liking.
Of course, like any other free mobile game, Pocket Camp tries to tempt you to purchase some of its in-game currency to speed things along, but so far, it seems like all that's safely ignorable. (If you have little ones or just really bad self-control, make sure to disable in-app purchases to avoid any unauthorized impulse buys.)
The holidays are tough. Let Animal Crossing: Pocket Camp take the edge off. If you'll excuse me, I have some butterflies to catch.