61% of Americans say Trump should be impeached if his sexual harassment allegations are proven true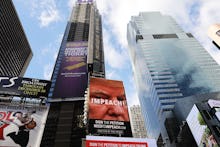 Nearly two-thirds of voters say that President Donald Trump should be impeached and removed from office if any of the mulitple sexual harassment allegations levied against him are proven true, according to a Quinnipiac poll published Tuesday.
A whopping 61% said Trump should be impeached and removed from office if the allegations are proven true.
Breaking down the numbers further, 88% of Democrats, 59% of Independents and 28% of Republicans say Trump should be impeached and removed if the allegations are true.
In addition, 59% of voters said they do not believe that Trump "respects women just as much as he respects men." The breakdown is stark: 91% of Democrats say Trump doesn't respect women as much as men, while just 27% of Republicans hold that same belief.
And the poll found troubling results for Alabama Republican Roy Moore — who is currently running for Senate in a special election in the state while facing multiple allegations that he molested or tried to date teenagers.
Six in 10 voters say Moore should be expelled from the Senate if he wins the Dec. 12 special election. That breakdown includes a third, or 33%, of Republican voters.
Quinnipiac also surveyed voters' general feelings on sexual harassment in the wake of multiple allegations against multiple powerful men.
Four in 10 voters say they've experienced sexual harassment, with the vast majority saying that harassment took place in the workplace. But more than two-thirds of voters, or 64%, say they know someone who has experienced sexual harassment.
And 89% of voters say sexual harassment of voters is a "serious problem."
"A vast majority of American men and women are deeply troubled by sexual harassment and the numbers underscore why. A stunning six in 10 women say they have been victimized," Tim Malloy, assistant director of the Quinnipiac University Poll, said in a news release.