Donald Trump just tacitly endorsed accused child molester Roy Moore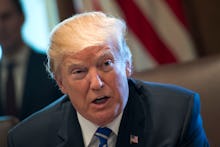 President Donald Trump officially broke his silence on accused child molester and Alabama Republican Senate nominee Roy Moore, tacitly endorsing Moore's Senate bid, despite the multiple accusations of child molestation and inappropriate behavior with teenage girls levied against him.
During a press gaggle at the White House on Tuesday, Trump was asked about what he thinks of the allegations against Moore.
"He denies it. He totally denies it," Trump said before heading off to Palm Beach, Florida, for the Thanksgiving holiday.
"We don't need a liberal Democrat in there," Trump added, a tacit endorsement of Moore's candidacy.
Trump's comment mirrors that of White House counselor Kellyanne Conway, who said on Monday that electing Moore was better than electing Moore's Democratic opponent, Doug Jones.
"Doug Jones in Alabama, folks, don't be fooled," Conway said on Fox News. "He will be a vote against tax cuts. He is weak on crime, weak on borders. He is strong on raising your taxes. He is terrible for property owners."
Conway's comment was a reversal from her comment just days earlier, in which she said, "There is no Senate seat worth more than a child."
Jones, for his part, is using the allegations against Moore in campaign ads in the state.
In a new ad released Tuesday, Jones highlights comments from Republicans who have condemned Moore over the allegations — including first daughter Ivanka Trump.
Polling shows Jones is now leading Moore.
However with a few weeks to go until the Dec. 12 special election, it's unclear whether Jones can hold on to that lead.
Trump's comments could swing Republican voters back to Moore, given Alabama's strong Republican bent and approval for Trump's presidency.