Al Franken's popularity plummets after sexual harassment allegations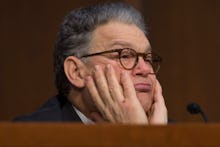 Minnesota Democratic Sen. Al Franken's popularity has plummeted in the wake of sexual harassment allegations by two women, dropping to 36% among Minnesotans, according to a poll released Wednesday by a local television station.
His popularity is down from 53% from a year ago, and just 22% of Minnesotans say he should remain in office, according to the survey.
Only roughly a third, or 32%, of Minnesotans say Franken can be an "effective" senator now that these allegations have been levied against him.
Franken is accused of kissing Los Angeles radio host Leeann Tweeden without her consent as well as groping her breasts while the two were on a USO tour of the Middle East back in 2006.
Another woman accused Franken of groping her rear end while they posed for a photo at the Minnesota State Fair in 2010.
Franken has apologized for his behavior and said he welcomes a Senate Ethics Committee investigation into his behavior.
Still, some liberal groups are calling on Franken to resign.
Franken is one of a handful of politicians who have been accused of inappropriate sexual behavior, including Republican Roy Moore, who has been accused of child molestation, and Michigan Democratic Rep. John Conyers, who has been accused of sexual harassment by staff.