A brief history of Donald Trump's escalating beef with LaVar Ball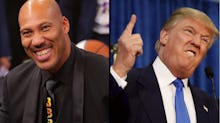 President Donald Trump continued to demand that LaVar Ball give him credit for doing his job Wednesday, tweeting that the basketball dad is an "ungrateful fool" and a "poor man's version of Don King, but without the hair."
"Just think LaVar, you could have spent the next five to 10 years during Thanksgiving with your son in China, but no NBA contract to support you," Trump tweeted. "But remember LaVar, shoplifting is NOT a little thing. It's a really big deal, especially in China. Ungrateful fool!"
Trump vs. Ball: A fated feud
Trump's tweets bashing Ball Wednesday opened the latest chapter in what seems like a feud that was destined to happen between the brash president and the outspoken Big Baller Brand founder.
This nightmare all got started when LiAngelo Ball — LaVar's second-oldest son — and two other University of California, Los Angeles, basketball players were arrested Nov. 7 in China for shoplifting from a Louis Vuitton store, a charge that could carry a severe five to 10 year jail sentence in the country.
The players were released on bail Nov. 8 and returned to the United States a week later.
Trump, who was in Asia at the time, said the players avoided a stiff prison sentence because he brokered a deal with Chinese President Xi Jinping and publicly wondered if "the three UCLA basketball players will say thank you to President Trump" — which all three did in a press conference after their return.
Trump also urged them to show gratitude to Chinese strongman Xi and reminded them to "be careful" because "there are many pitfalls on the long and winding road of life!"
It seemed like the whole ordeal might end there and a Trump-Ball meltdown might be avoided, but it turns out the president was not satisfied that LiAngelo's father had done quite enough to thank him.
LaVar — whose oldest son, Lonzo, is a rookie on the Los Angeles Lakers — called Trump's involvement in LiAngelo's release into question in an ESPN interview last Friday, saying that "everybody wants to make it seem like he helped me out."
Never one to let a perceived slight go, particularly — it seems — when the offending party is a person of color — Trump got on Twitter and basically said that if he wasn't going to get the props he so desired for doing his job, he "should have left them in jail!"
Ball — who shares Trump's love of being in front of the camera — clapped back in a CNN interview Tuesday in which he suggested that he, LaVar, was also partly responsible for bringing his son back and very reasonably wondered, "Why are we talking about this with all these political matters going on in the world?"
"Let him do his political affairs and let me handle my son and let's just stay in our lane," Ball said.
That all apparently sent Trump over the edge, compelling him to respond with perhaps his pettiest credit-grab yet.
"It wasn't the White House, it wasn't the State Department, it wasn't father LaVar's so-called people on the ground in China that got his son out of a long-term prison sentence," Trump tweeted Tuesday. "IT WAS ME."
The president frequently launches over-the-top attacks on his enemies — real or perceived — ahead of unflattering news reports. He also frequently attacks athletes and others in the sports world that he deems disrespectful to him or unpatriotic. Like his tweet comparing Ball to notorious boxing promoter Don King, these attacks have frequently had racist undertones.
Somehow, he also managed to drag Hillary Clinton into all this by retweeting one of his supporters who wrote that "if Hillary got my kid out of prison, as much as I hate the woman, I'd thank her corrupt ass!"
He rounded out his Wednesday morning sports takes by once again slamming the NFL over players who kneel during the national anthem to protest racial inequality, tweeting that the NFL's "new idea" to have players remain in the locker room during the pregame anthem next year is "almost as bad as kneeling!"
This is not a new idea; the practice of putting players on the field during the anthem didn't begin until 2009.