Ashley Graham lands on 'Forbes' highest-paid model list, while models of color remain largely absent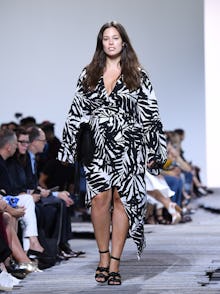 Forbes has released its highest-paid models of 2017 list and — for once — a plus-size model is making her debut.
Of course it is Ashley Graham who's doing the honor, landing at #10 on this list after earning $5.5 million in the past year. Though that's small beans compared to Kendall Jenner's $22 million, which landed her the top spot this year and bumped Gisele Bundchen to #2, Graham's money comes hard-earned, as she continues to build her own audience and empire while fighting through an industry that remains wary of models like her.
"It is not about who has the highest cheekbones anymore," Graham told Forbes in 2016. "It is really about how to be a boss, a brand and a businesswoman."
Even with clothing lines of her own at major retailers like Addition Elle, killer runway walks at New York Fashion Week shows like Michael Kors and covers like Vogue, she's still rallying to get herself into high-profile modeling events like the Victoria's Secret Fashion Show, where many of the other highest-paid models including Adriana Lima, Kendall Jenner, Bella Hadid and Gigi Hadid regularly strut.
But in any case, this is good news. Graham's spot on this list is a signal to the industry that there is a high demand for models like Graham.
In less encouraging news, the list included very few models of color, with only Chrissy Teigen, who landed at #3, and Liu Wen, who landed at #8. No black models made the cut, but Forbes doid note that Joan Smalls nearly made the list, earning around $5.5 million herself.
Here's the list in its entirety:
1. Kendall Jenner, $22 million
2. Gisele Bundchen, $17.5 million
3. Chrissy Teigen, $13.5 million
4. Adriana Lima, $10.5 million
5. Gigi Hadid, $9.5 million
6. Rosie Huntington-Whiteley, $9.5 million
7. Karlie Kloss, $9 million
8. Liu Wen, $6.5 million
9. Bella Hadid, $6 million
10. Ashley Graham, $5.5 million
In 2016, no black models broke the top 10 either, but in 2015, Joan Smalls did.
In response to this year's list, some black models already have their eye on breaking onto it next year.