Backstreet Boy Nick Carter accused of rape by Melissa Schuman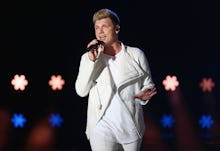 Pop star Nick Carter became the latest powerful man to face allegations of sexual assault on Tuesday, as actress and former member of the girl group Dream Melissa Schuman accused Carter of raping her when she was 18 years old.
In a blog post, Schuman detailed her account of the incident, which took place when she and Carter, who was 22 at the time, were working on the same television movie. According to Schuman, Carter invited her and a friend over to his apartment, where the two started kissing. Carter then proceeded to perform oral sex on Schuman, despite her telling him, "I didn't want to go any further."
"He didn't listen. He didn't care. He told me, 'Don't worry. I won't tell anybody,'" Schuman wrote in her account. "I told him that's not why I didn't want to do it. He took off my pants anyway and then proceeded to perform oral sex on me. I told him to stop, but he didn't. ... I remember thinking at that point that maybe after this he will just stop, but he didn't."
Carter then allegedly forced Schuman to perform oral sex on him even though she declined, telling her, "I did it for you and it's only right you do it for me."
"I felt scared and trapped. He was visually and clearly growing very angry and impatient with me. I couldn't leave. It was evident to me, that I couldn't leave. He was stronger and much bigger than me, and there was no way I would be able to open that door or have anyone help me. My friend couldn't help me, I didn't even know where she was," Schuman wrote in her account.
"So when he placed my hand on his penis my thought was the only way to get out was to get him to finish what he had started. That's where I saw myself, my reflection, watching myself do something that I was [sickened] by. Watching myself be assaulted, forced to engage in an act against my will," she wrote.
Despite Schuman, who was a virgin at the time, not giving Carter consent, the Backstreet Boys member then reportedly raped Schuman.
"He was relentless, refusing to take my no's for an answer," Schuman wrote. "He was heavy, too heavy to get out from under him. Then I felt it, he put something inside of me. I asked him what it was and he whispered in my ear once more, 'It's all me baby.'"
"It was done. The one thing I had held as a virtue had been ruined. I went limp, turned my head to my left and decided I would just go to sleep now. I wanted to believe it was some sort of nightmare I was dreaming up," Schuman's account continued.
In a statement provided to Mic by Carter's publicist, Carter responded: "I am shocked and saddened by Ms. Schuman's accusations. Melissa never expressed to me while we were together or at any time since that anything we did was not consensual. We went on to record a song and perform together, and I was always respectful and supportive of Melissa both personally and professionally. This is the first that I am hearing about these accusations, nearly two decades later. It is contrary to my nature and everything I hold dear to intentionally cause someone discomfort or harm."
After the alleged rape took place, Schuman recounts that Carter "jammed my phone with calls for weeks, leaving me messages demanding I speak with him," before leaving "one last nasty, angry message" and never calling her again.
According to Schuman's account, her nonconsensual experience had a negative impact on her career; the two met again after Schuman signed with Carter's manager and was encouraged to perform a duet with Carter. Schuman noted that she hoped performing with her rapist would at least help her find professional success and be "something good to come out of something very bad."
"Again, what was I supposed to do?" Schuman wrote. "I couldn't tell my manager that his best friend had raped me so I won't record this song."
After the two performed the duet at a showcase, however, Schuman recounted being told by her and Carter's manager that their duet would not be moving forward.
"I could tell by his tone that he was no longer interested in working for me and I couldn't help but wonder if Nick had any influence in it," Schuman wrote. "I never did another showcase again after that and I quickly lost interest in pursuing a career as a recording artist."
"I was broken. I was tired. I was traumatized."
In her blog post, Schuman explained that she was compelled to come forward with her story after an allegation against Carter was published on Radar Online in October. The anonymous account alleges Carter and friend Rob Kalouch sexually assaulted the victim and forced her to perform oral sex in 2006.
These allegations also aren't the first time that Carter has been accused of violent behavior. In 2004, Carter was suspected of being responsible for ex-girlfriend Paris Hilton's mysterious bruises shortly after the two broke up, which he denied. The Backstreet Boys performer was also arrested for battery in 2016, after a bar fight in which Carter "grabbed a bouncer by the throat."
In response to comments on the Radar Online article calling Carter's initial accuser a "liar," Schuman wrote: "Let me ask this simple question. Who the hell wants to be famous for being raped?"
"I certainly don't want to be 'known' for this. I never wanted anybody to know about my story. I wanted to lock it in a box in my mind and let the memories slowly suffocate as time went on," Schuman wrote.
"I feel I have an obligation now to come forward with the hope and intention to inspire and encourage other victims to tell their story. We are stronger in numbers. If you are reading this and you have been assaulted, know you don't have to be silent and you are not alone. I know it's scary. I'm scared," she wrote.
"I believe you. I stand with you and together I hope we can bring light to things that have been lost in the darkness for so long."