A gay porn parody of 'Justice League' whitewashed its cast with a Trump voter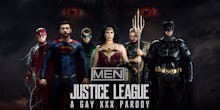 Another day, another example of galling tone-deafness in the gay community.
On Tuesday, the gay porn site Men.com — of "Right in front of my salad?" fame — revealed the trailer for its cheesed-up, hammy take on Justice League. In a win for simplicity, it's titled Justice League: A Gay XXX Parody.
Usually, the casting of RuPaul's Drag Race alum Manila Luzon as Wonder Woman would be the creative choice most worth discussing here — but today we're going to talk about something different. This particular film swaps Cyborg, Justice League's black protagonist, for the much whiter Green Lantern. To add insult to injury, Green Lantern is played by outspoken Trump voter Colby Keller.
If this is the first you're hearing of Keller, here's a quick rundown: In the time leading up to the 2016 presidential election, Keller announced he'd be voting for Donald Trump, whom he viewed as a "destabilizing force" that would upend our political world and take us one step closer to a communist paradise — or something like that.
In response to the backlash from the gay community, Keller later said, "I think the problem is that I don't support Trump. I did vote for Trump. That's the distinction."
Critics, like fellow gay porn actor and comedian Wesley Woods, noted that Keller's decision to vote for Trump as a way to "destabilize" the political world came from a place of white male privilege that ignored the very real, immediate effects a Trump presidency has had on transgender people, refugees, protesting athletes and Medicare recipients, to name a few.
So, understandably, the news of Keller's casting in lieu of a black actor dredged up all that old drama in online spaces like Tumblr and in the comments on Men.com's Twitter announcement. This is just the latest example of racism in the gay community and, more specifically, in the world of gay pornography.
So, fellow gays, if Keller's casting upsets you, perhaps it's best to take a cue from your high-school health class and simply abstain from this particular flick. Woods, the actor who criticized Keller's Trump vote in September, said it best.
"Please do not think the porn you watch, just like all other art and media outlets, does not have an impact," Woods wrote on Facebook. "Your orgasm is not neutral — you are directly supporting him, his platform and therefore his politics. You are acknowledging and allowing Keller's ideas to further impact those marginalized."
Mic has reached out to both Men.com and the film's production company, Alter Sin, for comment and will update this post with any response.