From the folks behind this year's "F*ck Trump" lipgloss comes their latest: "F*ck Hollywood"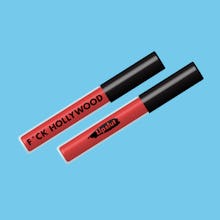 Earlier this year, college student Katie Sones created a socially conscious cosmetics company called Lipslut, which debuted with a lipgloss succinctly named "F*ck Trump."
With a promise to donate 50% of proceeds to a civil rights organization targeted by the Trump administration, Lipslut has (according to Sones) raised more than $80,000. Now amidst the nearly constant stream of allegations of sexual misconduct, harassment and assault against some of Hollywood's most powerful, Sones is using lipgloss to fight yet another fight.
On Lipslut's website, you can now buy a ruby-red lipgloss called "F*ck Hollywood," with 50% of proceeds going to anti-sexual assault organizations.
The lipgloss sells for $19.95, and upon checkout, you can vote for the charity Sones will donate to. Options include the National Alliance to End Sexual Violence, Planned Parenthood and the Rape, Abuse and Incest National Network.
"I don't think a few good movies every year warrants systemic 'sexual misconduct,'" Sones said in a press release. "With the amount of focus this topic has been given, I think there is a chance for us to get involved and make a small difference in workplace sexism and abuse at large."
More activism-based beauty companies have emerged in the past year or so than ever before, between Lipslut and the Lipstick Lobby, which donates proceeds of its lipsticks to the ACLU and Planned Parenthood.