Military personnel being investigated for contact with foreign women during Trump's trip to Asia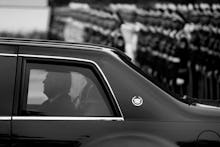 Three service members have been reassigned from their posts at the White House Communications Agency following allegations of improper contact with foreign women during President Donald Trump's tour of Asia in early November.
According to a Tuesday report by the Washington Post, the officials in question allegedly broke curfew during Trump's stopover in Vietnam near the close of his trip. The service members were part of a specialized military unit tasked with ensuring that the president, vice president and other high-level officials have access to secure channels of communication while abroad.
"We are aware of the incident, and it is currently under investigation," Mark Wright, a spokesman for the Defense Department, told the Post.
The incident comes on the heels of a similar incident that occurred during Vice President Mike Pence's trip to Panama in August, when allegations surfaced that four military members had taken foreign women to a secure area after curfew.
Those officials are also the subjects of an ongoing internal investigation, and have been stripped of their White House assignments while those results are still under review, according to the Post.