For Donald Trump, sports are a reflection of himself — and a weapon in his culture war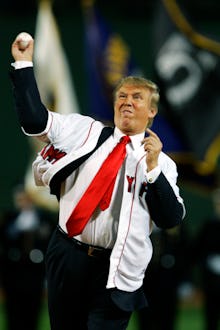 Donald Trump once again blasted LaVar Ball on Wednesday, extending the nightmare feud between the petty president and the bombastic basketball dad for another excruciating day.
"It wasn't the White House, it wasn't the State Department, it wasn't father LaVar's so-called people on the ground in China that got his son out of a long-term prison sentence," Trump tweeted Wednesday. "IT WAS ME."
It was the latest jab in the ongoing war of words between the attention-hungry Trump and Ball, who have publicly — and predictably — battled in recent days over the president's role in getting LiAngelo Ball and two other University of California, Los Angeles, basketball players home from China after the trio was arrested for shoplifting earlier in November.
Due to their mutual affection for shameless self-promotion and propensities to engage in inane public battles, it seems somehow preordained the two would eventually throw down. But there's another reason the president's Ball-bashing isn't all that surprising. It's part of Trump's pattern of using sports as a weapon in his culture war — and it speaks to his long, complicated history with the world of sports.
Trump and sports: a love-hate relationship
Trump, of course, is known for launching vicious personal attacks against his enemies — particularly when unflattering news about him is about to drop.
But his Twitter tirades and unhinged rally rants against athletes and others in the sports world, particularly those of color, seem like especially potent weapons in his ongoing culture war.
For as much as sports have had the power to bring people together over the years, they have also long reflected societal divisions. For as much as sports have been a vehicle of social progress, they have also been a tool for people like Trump to exploit peoples' fears and prejudices.
Trump's personal history with sports dates all the way back to his youth and seems an oddly canny reflection of who he is and the kind of values that have governed his behavior as a businessman, reality star and president.
Like a lot of American kids, Trump played baseball in his youth and was, apparently, pretty good at it. But, in a portrait of the president as a young man, the Washington Post noted that the skills he brought to the diamond — and the uniquely Trumpian joy he took from it — seem to presage his public persona.
A power hitter known for his fondness for getting down in the dirt, Trump "always wanted to hit the ball through people ... he wanted to overpower them," according to one of his schoolmates, who just as easily could've been talking about the dirty hits and bully tactics Trump used to do away with his opponents in the Republican primaries and Hillary Clinton in the general election.
And from where did he derive his joy?
"I like to hear the crowd give cheers, so loud and noisy to my ears," Trump wrote in a baseball poem when he was 12. That likely continues to ring true decades later as the now-president drinks in the praise of the raucous crowds at his rallies.
His habits on the golf course, where he has spent a significant chunk of his presidency, also seem to mirror his personality.
A fascinating Sports Illustrated profile in August depicted the golfer-in-chief as a man who embellishes his scores the way he embellished the crowd size at his inauguration, gives as little thought to bending the rules on the links as he does in his business dealings and whose skills are often underestimated due to his unconventional style.
Because of the courses he owns, the frequency with which he plays and his fraternizing with professional players, golf is probably the sport with which Trump is most publicly associated.
But he has also made high-profile attempts at business forays into other sports — with little success.
In 1984, Trump famously purchased the New Jersey Generals of the upstart U.S. Football League, which played its games in the spring to avoid competing directly with the NFL. But the supposedly savvy businessman pushed hard for the three-year-old USFL to move its games to the fall and compete for ratings with the more established league.
The move, immortalized in an epic 30 for 30 episode, directly led to the USFL's downfall. Decades later, he would make an attempt to buy the NFL's Buffalo Bills — which, bizarrely, included a secret smear campaign against rock star Jon Bon Jovi.
That didn't happen, and in classic Trump form, the future president claimed he didn't really want to buy the team anyway — even though he totally "would have produced a winner" if he had, of course.
If Trump's shady, impulsive governing style came through in his sports business dealings, critics who regard him as being allegiant, above all else, to rich men like himself could likely find evidence to support their view in his personal associations with team owners, like the New England Patriots' Robert Kraft and the Dallas Cowboys' Jerry Jones.
Critics who point out the president's troubling history of sexual assault allegations, too, might find some ammunition in his defense of convicted rapist and former boxer Mike Tyson as well as his friendship with former football pro O.J. Simpson, who infamously faced charges of killing his ex-wife and her friend in the 1990s.
Part of a culture war
Of course, what's perhaps most notable about the current waves Trump makes in the sports world is whom he chooses to attack — and whom he doesn't.
Trump has a pattern of attacking black athletes — who make up the majority of NBA and NFL players — but has seemed to largely steer clear of launching similar Twitter strikes on his white critics in the sports world, whose ranks include Steve Kerr and Gregg Popovich.
He's also been a frequent critic of Colin Kaepernick, the former San Francisco 49ers quarterback who started the anthem protests that have since become a routine part of NFL pregames. Trump has repeatedly taken pleasure in — and credit for — the quarterback's continued unemployment.
During a rally for Sen. Luther Strange (R-Ala.) in September, Trump — in a racially charged rant that also included an aside about the game becoming too "soft" — said "son of a bitch" players who, like Kaepernick, take a knee during "The Star-Spangled Banner" should be fired.
That led even more players, and some coaches and owners, to demonstrate during the anthem. Undeterred, though, Trump has for weeks continued to call for players to stand for the anthem or be punished.
Most recently, his war on the NFL has included a Twitter attack on Oakland Raiders running back Marshawn Lynch and a Wednesday diatribe about a "new idea" being floated by some NFL owners to have players stay in the locker room during the anthem in 2018 — something they had the option to do until 2009.
While he has couched his NFL criticism as a defense of patriotism and the U.S. military, Trump's attacks on ESPN commentator Jemele Hill and Golden State Warriors guard Steph Curry have been in response to perceived personal affronts.
In September, Trump said Curry would not be invited to the White House with the champion Warriors team — something the president had never offered in the first place.
That same month, Trump and his perpetually stern press secretary Sarah Huckabee Sanders each hammered ESPN's Hill after the anchor and analyst offered incendiary, but pretty mainstream criticisms of the president on Twitter.
"That's one of the more outrageous comments that anyone could make and certainly something that I think is a fireable offense by ESPN," Sanders said in September, responding to Hill's assessment of Trump as a "white supremacist" a couple weeks after he infamously blamed "many sides" for the violence at a racist rally in Charlottesville, Virginia, that left a counterprotester dead.
That the president has been quick to punch back at people of color in the sports world has not gone unnoticed. As Mic's Zak Cheney Rice noted on Monday, Trump's attacks on these athletes and other figures seem to be his way of "reminding them of their place in society."
"The United States granted them a rare opportunity to transcend the life their caste otherwise had in store for them, Trump's logic goes," Cheney Rice wrote. "They may be millionaires today, but only because America generously allowed them to be."
That narrative seems to have resonated with many of his "deplorables," who have called for NFL boycotts and, in a particularly memorable Politico piece earlier in November, used deeply racist language in their criticisms of the players and league.
"Tell him what you said the NFL is," a woman told her husband, referring to Politico's Michael Kruse.
"Niggers for life," her husband told him.
This type of culture war has proved extremely valuable for Trump, who rode divisive rhetoric to the White House and has seemingly used such battles to distract from a stalled legislative agenda and an ongoing FBI investigation into his campaign's alleged collusion with Russia that has already put former campaign and administration officials in major legal jeopardy.
But it has also led to a new era of athletic activism in which some of this generation's biggest stars aren't sticking strictly to sports.
Some of that activism, Kaepernick's #TakeAKnee protest and subsequent blackballing, has mirrored that of Muhammed Ali's sociopolitical stands in a different time of societal tumult.
But some of it has been merely cathartic.
In September, after Trump revoked Curry's nonexistent White House invite, Cleveland Cavaliers star LeBron James came to the defense of his NBA rival, calling the president a "bum" on Twitter and helpfully pointing out that the superstar had already said he wouldn't go.
"[Curry] already said he ain't going! So therefore ain't no invite," James wrote. "Going to the White House was a great honor until you showed up!"