Roy Moore's Democratic opponent is unafraid to use the child molestation accusations in ads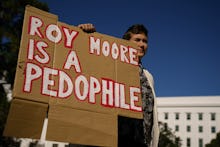 Alabama Republican Senate candidate Roy Moore has been accused by multiple women of sexual harassment, assault and even child molestation. And Moore's Democratic opponent, Doug Jones, is making sure voters know all about it.
Jones has released a series of campaign ads that plainly lay out the choice Alabama voters have before them: Do they want to support someone facing multiple allegations of child molestation?
The ads have grown increasingly direct in describing those stakes, culminating in a video — titled "Immoral" — released Wednesday listing the names of women who have levied allegations against Moore and posing a clear choice to voters.
"They were girls when Roy Moore immorally pursued them," a narrator says after reading the names of Moore's accusers. "Now they are women, witnesses to us all of his disturbing conduct. Will we make their abuser a U.S. senator?"
Wednesday's ad is the most explicit yet. The first ad Jones released days after the allegations first surfaced features a number of Alabaman Republican voters who say they simply cannot vote for Moore.
"You read the story and it just shakes you," one woman says in the ad.
"Just awful," another woman adds.
"Don't decency and integrity matter anymore?" the first woman asks.
A subsequent ad, released Tuesday, includes prominent Republicans echoing those same sentiments.
The video features comments from first daughter Ivanka Trump, Attorney General Jeff Sessions — who previously held the seat Moore and Jones are running for — and Sen. Richard Shelby, Alabama's other Republican senator.
Like the others, the ad doesn't explicitly say what Moore is accused of, describing the allegations only as "disturbing actions."
"Conservative voices putting children and women over party, doing what's right," a narrator concludes on that ad.
Jones is vastly outspending Moore on television just a few weeks out from the Dec. 12 special election.
Polling shows the race is basically tied, with Jones holding a 0.8% lead, according to the RealClearPolitics average.