John McCain dies at 81 after battle with brain cancer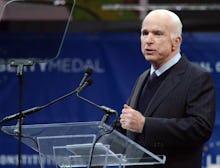 Sen. John McCain (R-Ariz.) died Saturday after a battle with brain cancer, his office announced, just four days shy of his 82nd birthday.
"Senator John Sidney McCain III died at 4:28 p.m. on August 25, 2018," McCain's office said in a statement. "With the Senator when he passed were his wife Cindy and their family. At his death, he had served the United States of America faithfully for sixty years."
McCain's death comes a day after his office announced he was discontinuing treatment for the glioblastoma he was diagnosed with a little more than a year ago.
Born in the Panama Canal Zone on Aug. 29, 1936, McCain went on to follow in the footsteps of his Naval officer father and joined the Navy. He served in the Navy from 1958 until 1981, ending his career as a decorated captain with awards such as the Silver Star, Legion of Merit, Distinguished Flying Cross and Purple Heart.
In 1967, while serving in Vietnam, a plane McCain was flying was shot down over Hanoi, and he was taken prisoner until his release five-and-a-half years later in 1973. The experience left McCain with permanent disabilities, and made him a war hero back home.
After leaving the Navy, McCain ran for an open U.S. House seat in Arizona in 1982 and won. In 1986, he was elected to the Senate to succeed Barry Goldwater, the failed Republican presidential hopeful.
Like Goldwater, McCain would also unsuccessfully run for president. In 2000, McCain lost a GOP presidential primary to now-former President George W. Bush. Then in 2008, he won the Republican nomination, but ultimately lost the general election to now-former President Barack Obama.
Despite his failed presidential attempts, McCain was a powerful senator. Over his career he earned a reputation as a "maverick" who bucked his party when he felt appropriate.
He stood up against racist attacks on Obama in the final days of the 2008 campaign, when smears on Obama's religion made their way into public discourse.
"He's a decent, family man, citizen that I just happen to have disagreements with on fundamental issues," McCain said to a woman during a campaign event in 2008 who said she believes Obama is "Arab."
McCain also helped co-author the landmark and bipartisan McCain-Feingold campaign finance reform that passed in 2002, and often spoke out about torture — an issue he was passionate about because of his experience as a prisoner of war.
Though he was not in Washington, D.C., for the vote on CIA Director Gina Haspel, he opposed her nomination due to her role in the government's torture program.
"I believe Gina Haspel is a patriot who loves our country and has devoted her professional life to its service and defense," McCain said in a statement in May. "However, Ms. Haspel's role in overseeing the use of torture by Americans is disturbing. Her refusal to acknowledge torture's immorality is disqualifying. I believe the Senate should exercise its duty of advice and consent and reject this nomination." 
In his final years, McCain became an ardent critic of President Donald Trump, denouncing his nationalistic and anti-immigrant policies — and often drawing Trump's ire. Trump criticized McCain during the 2016 presidential campaign, questioning why people viewed McCain as a war hero because he got captured.
After he was diagnosed with brain cancer, McCain returned to Capitol Hill to cast the deciding vote against a repeal of the Affordable Care Act with a memorable thumbs down that shocked Republicans and Democrats alike.
Trump continued to attack McCain for that vote at numerous campaign rallies across the country.
McCain's death now creates two open Senate seats in Arizona.
Sen. Jeff Flake (R-Ariz.) is retiring instead of running for re-election in 2018. And a special election to fill McCain's seat for the rest of his term will also take place corresponding with the midterm elections.