Nancy Pelosi defends Rep. John Conyers amid sexual harassment allegations, calls him an "icon"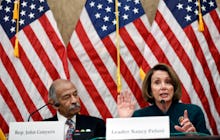 The U.S. House of Representatives became mired in its own sexual harassment scandal Monday when it was revealed that Rep. John Conyers (D-Mich.) allegedly fired a staffer who wouldn't "succumb to his sexual advances" — but the House's top Democrat is still defending the Michigan member of Congress.
In an appearance Sunday on Meet the Press, House Minority Leader Nancy Pelosi (D-Calif.) wouldn't condemn Conyers, who is the longest serving member of the House or explicitly say she believed his accusers. Instead, she insisted that the accused member of Congress deserved "due process."
"We are strengthened by due process," Pelosi said Sunday. "Just because someone is accused — I think there has to be. John Conyers is an icon in our country. He has done a great deal to protect women."
"As John reviews his case — which he knows, which I don't — I believe that he will do the right thing," Pelosi continued.
When asked what that "right thing" is by host Chuck Todd, Pelosi demurred, simply saying: "He will do the right thing in terms of what he knows about his situation, that he's entitled to due process, but women are entitled to due process as well."
Pelosi continued not to speculate about the accusations against Conyers, which allege the congressman settled the staffer's complaint for $27,000 in exchange for her silence. His behavior was reportedly part of a pattern of misconduct and harassment, the initial report and subsequent accusations against Conyers have revealed.
"We are talking about what we have heard. I have asked the Ethics Committee to review that. [Conyers] has said he'd cooperate," Pelosi said when asked about the specifics of the accusations facing Conyers.
Conyers has "expressly and vehemently denied the allegations" against him, responding in a statement. "It is important to recognize that the mere making of an allegation does not mean it is true. The process must be fair to both the employee and the accused."
When asked if she believed his accusers, Pelosi responded: "I don't know who they are. Do you? They have not really come forward."
"You don't know if you believe the accusations?" Todd asked.
"That's for the Ethics Committee to review. But I believe he understands what is at stake here, and he will do the right thing," Pelosi answered.
The House minority leader's trust that Conyers would "do the right thing" echoed White House press secretary Sarah Huckabee Sanders' defense of alleged sexual predator Roy Moore, the GOP Senate nominee for the Alabama seat in the U.S. Senate. When asked whether President Donald Trump thought the former chief justice of the Alabama Supreme Court should resign from the race, Sanders left the decision up to the beleaguered candidate.
Moore will "do the right thing and step aside" if the accusations against him are true, Sanders said on Nov. 10.