5 African-American churches in the same New Jersey county were vandalized in the same evening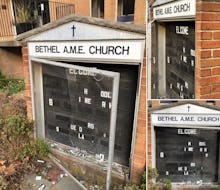 Five churches with predominantly African-American congregations were vandalized in Morris County, New Jersey, police reported Saturday. The spate of incidents is being investigated as a possible bias crime.
Church officials told law enforcement the vandalism occurred overnight, from Friday into Saturday, according to a report issued by the Morris County Prosecutors Office and Morristown and Morris County police departments.
"The vandalism was limited to property damage including a broken stained glass window and broken or damaged exterior signs," the statement reads. "The incidents are being treated as a possible bias crime; however, the investigation is currently active and no further information will be released at this time."
The targeted churches include Church of God in Christ for All Saints, Bethel A.M.E. Church, Calvary Baptist Church and Union Baptist Church, all of which are located in Morristown, New Jersey, along with Morristown Church of Christ in Morris Township.
According to ABC 7, the pastor of one of the targets, Bethel A.M.E., said the church had surveillance video that captured the person who is believed to have committed the acts of vandalism, and it has been turned over to police.
The official statement noted that police would be increasing their presence at the local churches in response to the vandalism, but it encouraged the public to "remain vigilant" and contact authorities if they witness any suspicious activity.
New Jersey Governor-elect Phil Murphy responded to the vandalism in Morris County on Twitter Saturday, calling the incidents "cowardly acts."
"Disgusted by reported vandalism of African-American churches across Morristown. These cowardly acts will not shake our faith. They will renew our determination to come together as one New Jersey," Murphy wrote.