Hype List: What to check out this week, including 'The Shape of Water' and 'The Disaster Artist'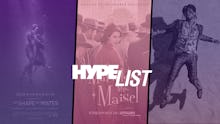 Welcome to the Hype List, a weekly recommendation series in which columnist Tirhakah Love highlights all of the pop culture happenings — movies, music, television, books and more — you need to know about.
Movie: The Shape of Water
Visionary director Guillermo del Toro returns to the realm of fantasy with what feels like a spiritual successor to his 2006 masterpiece Pan's Labyrinth. Set in Baltimore in 1962, his latest film tells the story of a mute woman named Elisa (Sally Hawkins) who discovers a top-secret water creature that's been captured by the government.
Elisa and the creature soon develop a kinship, much to the displeasure of the violent Colonel Richard Strickland (Michael Shannon), who, of course, seeks to exploit the creature and experiment on it. A striking, romantic fairy tale that features a stellar cast (Octavia Spencer, Richard Jenkins and Michael Stuhlbarg also star), The Shape of Water has critics enamored and walked away with the top prize at the Venice Film Festival in September. Expect it to make a big splash at the Oscars.
The Shape of Water will be released in select theaters Friday.
Music: War & Leisure by Miguel
R&B singer Miguel is known more for making bedroom music than political tunes, but that might change soon. On the California crooner's fourth album, War & Leisure, matters of the heart remain a primary focus, but there's a new level of attention paid to the state of the world and the sense of tumult that's been hanging over 2017.
"With my albums, I always try to take a picture of what's going on in my life. War & Leisure has political undertones, because that's what life feels like right now," Miguel recently told Billboard. "We all wake up, and it's time to be creative and amazing and positive and all the things that we're supposed to be when you look on Instagram, but then we're dealing with these same problems, this injustice, wars between politicians with egos. Like, 140 characters are going to get us into a war right now?"
For an idea of the mood he's going for, look no further than the video for "Told You So" in which Miguel's dancing to the joyous funk song as the sunlight fades and missiles are launched into the sky.
War & Leisure will be released Friday via RCA.
TV: The Marvelous Mrs. Maisel
If you were to ask Miriam "Midge" Maisel about the institution of marriage, I'm sure she could answer with seven minutes of standup material. As the lead character of Amazon's new comedy, Maisel (played by House of Cards alumna Rachel Brosnahan) is a Jewish housewife married to a man who possesses a self-diagnosed comedy gene. Eventually, though, she comes to a realization: She's a lot funnier than her husband.
But, it's 1958, and most housewives are simply resigned to being just that. It takes a life-altering moment to push Maisel to actually get on stage and try her hand at standup. So many shows that involve women breaking down barriers are overly serious; with The Marvelous Mrs. Maisel, creator Amy Sherman-Palladino (Gilmore Girls) portrays the act of resistance as inherently funny, making for a show that thoroughly mocks the male gaze.
The Marvelous Mrs. Maisel will be released Wednesday on Amazon.
Music: No Dope on Sundays by CyHi the Prynce
Aside from a few skippable mixtapes, we haven't really heard a peep from CyHi the Prynce since his inclusion on Kanye West's 2010 masterwork My Beautiful Dark Twisted Fantasy. Which, if we're being honest, is a real shame because homeboy can really, really rap. CyHi's recently released debut studio album, No Dope on Sunday, harkens back to the bruising lyricism of cats like Clipse, DMX and Scarface.
On the opener alone, the artist wrings out crisscrossing punchlines with no hint of exasperation: "Varsity in two sports, my reputation preceded me/ But the trunk PAC 10, so I never played collegiately/ Big 12-gauge to WAC a n*gga in the SEC." If the title isn't enough of a giveaway, on No Dope on Sundays, the consequences of street life commingle with hopeful messages, making for one of the realest and delightfully surprising rap records of the year.
No Dope on Sundays is available now via Sony Music.
Movie: The Disaster Artist
Tommy Wiseau's 2003 cult-classic film The Room is really, really bad and really, really beloved. It is known, famously, as "the Citizen Kane of bad movies " But now there's a really, really good movie chronicling the making of The Room. Enter The Disaster Artist, directed by and starring James Franco. Based on a memoir of the same name written by one of the stars of The Room, Franco's meta-flick brings to life the absurd circumstances surrounding The Room's shoot, including an incoherent script, a lack of air conditioning and a preponderance of butt shots.
The cast is stacked with comedy stars (Seth Rogen, Alison Brie, Judd Apatow and Zac Efron all make appearances), but this is really a two-hander, with Franco playing the enigmatic Wiseau and his younger brother, Dave, playing Greg Sestero, the actor who went on to write the tell-all. As incomprehensible as The Room is, The Disaster Artist is a very well made film, an entertaining and engaging story of friendship, failure and Hollywood.
The Disaster Artist will be released in theaters Friday.