Black Friday 2017 shatters record for gun background check requests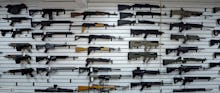 This Black Friday, Americans across the country were shopping for the best deals on electronics, clothes — and, well, guns.
USA Today reported Saturday that a single-day record for gun background check requests was set on Black Friday, with the FBI filing a total of 203,086 requests.
Friday's total tops the previous record of 185,713 requests, which was set on Black Friday in 2016. USA Today noted that the number of requests are not indicative of the actual number of guns sold, as a buyer could purchase multiple firearms in a single purchase. Though background checks are required to purchase firearms from federally licensed dealers, there are also "loopholes" to purchase them without a background check, such as purchasing one at a gun show from an unlicensed seller.
The record numbers come amid an overall decline in sales since Donald Trump became president, USA Today reported. It's a noticeable contrast to Barack Obama's presidency, during which sales rose as consumers feared an increase in gun control measures.
Friday's record background check requests, however, also come after pushes for more gun control have been back in the news following shootings in Las Vegas and Sutherland Springs, Texas — and the efficacy of federal background checks themselves have been called into question.
Attorney General Jeff Sessions ordered a review of the database used for federal background checks on Wednesday, the New York Times reported, just two days before the Black Friday surge. The review comes after it was discovered that domestic violence charges against Sutherland Springs suspect Devin Kelley, which would have prevented him from purchasing a firearm, were not properly reported to the FBI.
Along with staffing shortages at both the FBI and the Bureau of Alcohol Tobacco Firearms and Explosives, the incomplete database has long been a problem for the federal background check system, an earlier USA Today report noted. The background check system relies on voluntary submissions from law enforcement agencies, resulting in "a database rife with incomplete or inadequate record submissions."
"Many of the challenges that we have long faced have not gone away, nor will they go away," Stephen Morris, a former assistant FBI director who oversaw the bureau's vast background check operation, told USA Today. "We could build the best IT (information technology) system money can buy — the fastest, most efficient. In the end, it is only as good as the information that is fed into it. Like they say: Garbage in, garbage out."