Mic Wakeup: This Sunday in sexual misconduct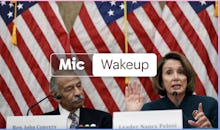 Thanksgiving weekend has come and gone, and now the work week is here again. Here are all the stories you need for Monday, Nov. 27.
Sen. Lindsey Graham on Roy Moore
At a Sunday morning appearance on CNN's State of the Union, Sen. Lindsey Graham (R-S.C.) made his case against Roy Moore, the beleaguered GOP nominee for the Alabama seat in the U.S. Senate. It's a roughly 30-second argument and a likely indicator of where some members of the Senate GOP stand on Moore's candidacy. Give it a listen.
Nancy Pelosi on John Conyers
At an appearance on Meet the Press, House Minority Leader Nancy Pelosi defended the character of Rep. John Conyers (D-Mich.), arguing that the dean and founding member of the Congressional Black Caucus was "an icon." According to BuzzFeed, Conyers settled a lawsuit with a former staffer who accused him of firing her in retaliation for her refusal of his sexual advances. Watch here.
John Conyers steps down as ranking member of House Judiciary Committee
In light of the allegations of sexual harassment, Conyers stepped down as ranking member of the House Judiciary Committee. In a statement, he blamed the partisan agenda of an alt-right blogger for the leak of the documents containing the allegations. This is how it all went down.