Senate Republican tax plan hurts the poor while cutting taxes for the rich, CBO finds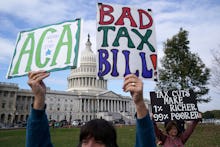 The Senate Republican tax plan would harm the poor while slashing taxes for the rich, according to a report from the nonpartisan Congressional Budget Office published Sunday.
The CBO found that negative impact for Americans earning less than $30,000 a year begin as soon as 2019. According to the report, that's because the Senate Republican tax plan would eliminate the Affordable Care Act's individual mandate — a move the CBO says would raise premiums by 10% a year and cause the poor to be unable to afford insurance.
An additional 4 million people would be uninsured by 2019, and 13 million more would be uninsured by 2027, the CBO found. Fewer poor Americans purchasing health insurance means the government would save on insurance subsidy payments — which then helps the government afford tax cuts for the wealthy.
The CBO's findings play directly into the hands of Democrats, who have said that the Republican tax plan is a reverse Robin Hood, taking from lower income Americans and giving to the rich.
Senate Republicans, including Senate Finance Committee Chair Orrin Hatch (R-Utah), have tried to fight back against that attack, saying that buying health insurance is a choice, and that more Americans will merely choose to go uncovered. But that argument didn't appeal to voters during the GOP's multiple unsuccessful attempts to repeal the Affordable Care Act (better known as Obamacare) earlier this year.
Public polling on the Republican tax plan is nearly as bad as the polling on Obamacare repeal bills: More than half of voters disapprove of the tax plan, while just 25% support it, according to a Quinnipiac poll from earlier this month.
Democrats are already running ads against Republicans for the plan.
A new ad set to air on television Tuesday paints the bill as a win for the rich, including President Donald Trump.
The ad will air on Fox News — including the Fox & Friends morning show Trump often watches — the same week Senate Republicans could vote on the proposal.