Is bitcoin really worth $10,000 — or is it in a bubble? The truth about bitcoin's rapid price rise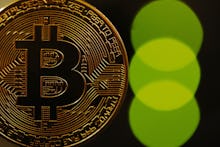 The price of bitcoin topped the $10,000 per coin milestone on Tuesday, trading near $10,100 per coin as of 2:00 p.m. Eastern, according to CoinMarketCap. One reason for the rip-roaring price climb is simply investor psychology; just as with the Dow Jones Industrial average hitting 20,000, momentum around big round numbers can push prices up fast. Indeed, on Sunday, bitcoin's price topped $9,000 — just seven days after hitting $8,000 — the fastest thousand-point rally in bitcoin's history, according to CoinDesk, and just a few weeks after the price dropped below $3,000.
Volatility aside, bitcoin's market capitalization is now $162 billion, making it more valuable than General Electric's current $158 billion market cap — and likewise Disney and McDonald's. By some counts, bitcoin is now one of the 30 most valuable currencies in the world.
Why is bitcoin's price spiking? A big part of it has to do with new buyers. On Nov. 24, Bespoke Investment Group wrote a note to clients explaining that Coinbase, the largest cryptocurrency trading platform, now has more customers than the stock brokerage Charles Schwab. They estimate that roughly 100,000 people set up new Coinbase accounts in the two days between Nov. 22 and Nov. 24. That's a lot of new traders to bid up the price.
Other buyers may simply have a case of fear of missing out. In October, CME Group, one of the largest trading desks in the world, announced plans to start trading bitcoin futures before the end of the year.
There are now two companies — CME Group and its rival Cboe Global Markets — vying to be the first company to offer access to bitcoin through a "traditional, regulated exchange," Reuters noted.
Of course, the new highs have added to concerns that bitcoin is in the middle of a speculative bubble that could crash with little warning.
Bitcoin's price fluctuates too much for it to be a reliable currency. What's more the tokens have no intrinsic usefulness like commodities such as oil, corn or even gold. It's sort of like owning stock in a company that doesn't make any money. As the analyst Neil Wilson told the Guardian, it's "hard to see this as anything other than a giant speculative bubble." The Nobel prize-winning economist Robert Shiller has dismissed the cryptocurrency in similar terms.
Around the world, central bankers are also increasingly concerned about bitcoin. If there were a crash, for example, they could be accused of not doing anything to prevent it, Reuters reported. Central banks in Europe and Japan, for example, are reportedly considering setting up digital currencies of their own, even as other banks are calling for increasing regulation.
Further crackdowns would likely send the price of bitcoin falling, as was the case when China shut down a number of exchanges back in September.
Now, there's a solid case to be made that — despite the ample risks — buying a small amount of cryptocurrency (whether bitcoin or other types) could be a smart way to use your "fun" money, and a hedge against the possibility that bitcoin could have a lot more room to rise.
So: Should you buy bitcoin? Well, first and foremost, keep an eye out for increasingly common bitcoin scams. There are many ways fraudsters target victims, through phishing emails, referral links, and too-good-to-be-true Ponzi schemes, for example.
If you're thinking of buying bitcoin as an investment but don't know how to start, you might want to wait for the next dip: Big crashes are common and buying near an all-time high makes it harder to maximize value.
In the meantime, read up on our cryptocurrency investing guide to learn all about how bitcoin, ethereum and other digital currencies work — and the pros and cons of owning some.
Nov 28. 2017, 2:00 p.m. Eastern: This story has been updated.
Sign up for the Payoff — your weekly crash course on how to live your best financial life.