Here are seven things Republicans hope to achieve by the end of the year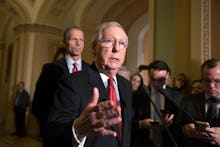 Welcome to Mic's daily read on Donald Trump's America. Want to receive this as a daily email in your inbox? Subscribe here.
Monday's dispatch: The GOP's moment of truth
President Donald Trump and top Republicans are returning to Washington with plans to pass their most ambitious agenda yet. Standing in their way: opposition from Democrats, low approval numbers, only 12 legislative days until the end of the year, 11 days until the government runs out of money and pleasing a diverse GOP conference.
Senate Republicans hope to pass their tax reform proposal by the end of this week — a bill that includes a repeal of the Affordable Care Act's requirement that Americans have health insurance.
The House passed its tax legislation — which did not repeal the ACA's individual mandate — the week before Thanksgiving.
Six Republican senators are known to have problems with the existing Senate tax bill. Sen. Ron Johnson (R-Wis.) says he opposes the current bill, and Sen. Susan Collins (R-Maine) has taken issue with removing the individual mandate. Sen. Steve Daines (R-Mont.) has raised concerns that the legislation favors corporations too heavily.
Sens. John McCain (R-Ariz.), Jeff Flake (R-Ariz.) and Bob Corker (R-Tenn.) are also wavering on the bill. Flake and Corker are not running for re-election, while McCain is fighting brain cancer. Plus, none of them are friendly with Trump.
If the Senate pass a tax proposal, then the House and Senate will hammer out a compromise package to pass both chambers.
There are already comparisons here to 2009, when Democrats pushed unpopular health care reform legislation. Republicans say delivering tax cuts is critical to maintaining their majority, while Democrats argue cutting taxes largely for corporations and the wealthy will backfire politically in the 2018 midterms.
The Congressional Budget Office said Sunday the current bill would increase taxes on the poor while sending most benefits to people making at least $100,000.
Also this week, Trump will meet with Republicans and Democrats to discuss averting a government shutdown. Calls are growing from minority and progressive Democrats in the House and Senate to protect Deferred Action for Childhood Arrivals recipients as part of a deal to continue funding the government.
More than two dozen House Democrats have said they will not vote to fund the government without protections for people who came to the U.S. as children and were granted legal status by the Obama-era DACA program.
After months of failing to repeal and replace the ACA, Republicans are aiming to demonstrate an ability to govern by keeping the government open and passing tax reform in a few weeks, before mid-December.
A full rundown of what the GOP hopes to accomplish by the end of 2017:
- Pass a bill to fund the government
- Pass tax reform
- Renew the Children's Health Insurance Program
- Allocate $44 billion in hurricane relief to Florida, Texas, Puerto Rico and the U.S. Virgin Islands
- Renew surveillance powers for the National Security Agency
- Reauthorize the struggling National Flood Insurance Program
- Potentially pass legislation to stabilize the ACA's individual markets.
Today's question: Do you think the Senate and House can pass tax reform?
Please send us your thoughts at trumpsamerica@mic.com.
This week in Trump's America:
Roy Moore: Without mentioning Moore, Trump called for Alabama Republicans to rally around the GOP Senate nominee, despite numerous allegations of sexual misconduct against him. That came as Senate Republicans on Sunday further distanced themselves from Moore.
Rep. John Conyers: The Michigan Democrat and longest-serving member of the House will step down from his top spot on the House Judiciary Committee as allegations of sexual harassment against him swirl and are now being investigated.
That news came hours after Rep. Nancy Pelosi (D-Calif.) called Conyers an "icon" on Meet the Press but said he would "do the right thing" as his case is reviewed. Pelosi was trying to thread the needle between honoring a popular Democrat and pushing for accountability, a strategy some argued on social media failed.
Sen. Al Franken (D-Minn.) was accused by two more women of inappropriate touching, bringing the total to accuse the senator to four. Franken issued another apology over the weekend. His colleagues are maintaining their calls for an ethics investigation — and not his resignation.
On Sunday, Franken said. "I don't know. I can't say," when asked whether he will face further groping allegations. He will return to the Senate on Monday.
Bernie Sanders: Politico details how the Vermont independent senator is potentially laying the groundwork to run for president in 2020. A recent poll found that Sanders, 76, would defeat Trump were he to run in three years.
Gun sales: Black Friday saw a record number of background check requests for gun sales at more than 203,000 nationwide.
Hate crimes in New Jersey: Five predominantly black churches in the same New Jersey county were vandalized in one evening on Friday.
Lawsuit: Richard Cordray stepped down as director of the Consumer Financial Protection Bureau, which was created under former President Barack Obama. Cordray appointed an acting director, as did Trump. Now, Cordray's hand-picked successor is suing the Trump administration, arguing she has control of the bureau Republicans loathe until the Senate confirms a new director.
Koch brother purchase: The billionaire conservative Koch brothers have backed a nearly $3 billion purchase of Time Inc. The Meredith Corp., the company purchasing Time, says the brothers will have no influence on the editorial content of the magazines.
Speed-read on NTA's Thanksgiving hiatus:
Thanksgiving was the 100th day Trump had spent at one of his properties since becoming president. That's a little less than a third of his presidency.
Another report emerged of a member of Trump's Cabinet questioning his intelligence. That's a trend among Republicans.
Trump on Friday claimed Time magazine said he would "probably" be named person of the year — which wasn't good enough for Trump, leading him to turn down a photo shoot. Time said Trump was "incorrect," adding that deliberations about the magazine's top honor are not made public.
Egypt is recovering from an attack on a mosque that killed more than 300 people.
Today's MicBite:
This video will make you rethink Thanksgiving and its history. We hope you had a good holiday, but it's worth taking a moment to see the annual holiday through the eyes of Native Americans. Click or tap the video below to watch.