At the 2017 Miss Universe pageant, winner Demi-Leigh Nel-Peters takes on sexual harassment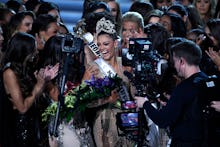 Even at the 2017 Miss Universe Pageant Sunday night, which brought some of the world's most accomplished, intelligent and beautiful women together, America's political climate loomed.
That was most evident during the Q&A portion of the show, when a fan asked contestants why they thought it was important for both men and women to work together to address sexual misconduct. Coming at a time when some of the most powerful men in media, film and politics — including Donald Trump, who once owned the pageant — have been accused by multiple women of sexual harassment and abuse, it was pointed.
In response to the question, Miss South Africa Demi-Leigh Nel-Peters, who was later crowned the winner, didn't flinch and took a strong stance against the harassment of women.
"If women take hands and stand together, we are unbreakable," Nel-Peters said. "And we can say no to the things that are wrong in the workplace, at home or wherever you might go."
Answering the same question, Miss Jamaica, Davina Bennett, said: "Sexual harassment is a form of abuse, and no abuse should be tolerated whether in the workplace or in society. I believe that men and women should come together and be professional."
During the same interview cycle, the women were asked about the pay gap as well, with Nel-Peters taking a stand yet again, saying: "In some places, women get paid 75% of what men earn for doing the same job, working the same hours — and I do not believe that this is right. I think we should have equal work for equal pay for women all over the world."
Just goes to show you that pageants like this one — and all the women fighting for the crown — are about a lot more than swimsuits, ballgowns and stilettos.