Dictionary.com announces that "complicit" is its 2017 word of the year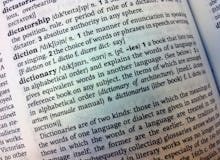 In a fiery Monday morning blog post touching on everything from Ivanka Trump to the NFL protests, Dictionary.com, one of the internet's shadiest vocabulary resources, announced its 2017 word of the year: "complicit."
According to the announcement, searches for the word "complicit" first spiked in March, with a 10,000% increase in lookups the day after a Saturday Night Live sketch featuring Ivanka Trump, played by Scarlett Johansson, advertising a fragrance called Complicit, for "the woman who could stop all this, but won't."
Searches for "complicit" spiked again in April after the actual Ivanka Trump gave an interview in which she responded to accusations that she and husband Jared Kushner were complicit in President Donald Trump's actions. In her answer, Trump twisted the definition of the word, telling interviewer Gayle King, "If being complicit is wanting to be a force for good and to make a positive impact, then I'm complicit."
The first daughter then added, "I don't know what it means to be complicit."
But the word's strange orbit around Trump's oldest daughter wasn't the sole factor in its taking the 2017 prize: Dictionary.com also called out Environmental Protection Agency chief Scott Pruitt as "complicit in his refusal to acknowledge that humans play a primary role in climate change." The announcement also targeted the "complicity" of Hollywood insiders who tolerated a culture of rampant sexual harassment by powerful men, as well as the social media giants that may have been "complicit in the propagation of propaganda, fake news and disinformation" during the 2016 election.
Dictionary.com ended its blog post with a warning that "even inaction is a type of action. The silent acceptance of wrongdoing is how we've gotten to this point. We must not let this continue to be the norm. If we do, then we are all complicit."
"Complicit" takes its place next to "xenophobia," the site's 2016 word of the year.