What Melania Trump wore her 44th week as first lady — for pardoning turkeys and Christmas decorating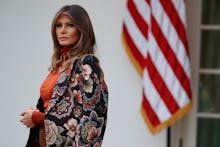 This past week was filled with many classic White House traditions for Melania Trump. She got to participate in the pardoning of some turkeys, greet the White House Christmas tree and give back a little during her Thanksgiving holiday in Florida too.
Trump's been dressing with the season, wearing lots of holiday-appropriate plaid and autumnal tones.
This is what she wore:
Monday, Nov. 20: A plaid coat for welcoming the White House Christmas tree
Before Melania Trump could oversee the complete overhaul and decoration of the White House for the holidays, there of course needed to be a giant Christmas tree.
Last Monday, Trump welcomed the 19-and-a-half-foot-tall Balsam fir to the White House in a festive blue and red outfit, comprised of skinny jeans, high black leather boots by Victoria Beckham, a red turtleneck by Ralph Lauren and a blue and red plaid coat by Calvin Klein.
Tuesday, Nov. 21: An animal-friendly designer for pardoning turkeys
Ahead of Thanksgiving, Trump's husband participated in the tradition of the president pardoning a few turkeys, and to that event, she wore a designer known for being animal-friendly.
Dressed in autumnal tones, with a rusty orange turtleneck and a brown skirt (which appeared to be leather, ironically), Trump wore a floral coat overtop designed by Stella McCartney, who's vowed to be as environmentally and animal-friendly as possible, never using fur or real leather in her designs.
Fitting.
Thursday, Nov. 23: A pink gingham repeat for serving Thanksgiving dinner
On Thanksgiving Day, Trump did her part to give back and served dinner to U.S. Coast Guard members stations in Riviera Beach, Florida, which is close to Mar-a-Lago, where the family spent the holiday weekend.
The outfit Trump opted for for this was very casual, with slim black pants, a baseball cap (a favorite casual Melania look at this point) and the pink gingham J.Crew shirt she first wore back in August.
You can see previous recaps of what Melania Trump wore here.