In Puerto Rico, Bernie Sanders wants to put his progressive vision for America to the test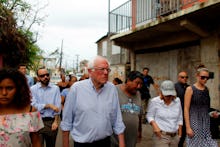 Sen. Bernie Sanders unveiled legislation Tuesday morning to rebuild Puerto Rico, which will once again position his progressive vision for America as the view of some key Senate Democrats.
After convincing 15 Democrats to back his "Medicare for all" proposal in September, the Vermont senator has convinced five of his fellow senators to support his progressive vision for Puerto Rico following the island's devastation from Hurricane Maria. The cosponsors include potential 2020 presidential hopefuls Sens. Elizabeth Warren (D-Mass.), Kamala Harris (D-Calif.) and Kirsten Gillibrand (D-N.Y.), as well as Sens. Richard Blumenthal (D-Conn.) and Ed Markey (D-Mass.)
"The full resources of the United States must be brought to bear on this crisis for as long as is necessary. However, we cannot simply rebuild Puerto Rico the way it was," Sanders said in a statement to Mic before the bill's release.
"We must go forward to create a strong, sustainable economy and energy system in Puerto Rico and the U.S. Virgin Islands that corrects for years of unequal treatment of the islands."
Earlier this month, Puerto Rico's governor said the U.S. territory needed over $94 billion to recover from the hurricane, which likely killed hundreds of residents. Sanders' bill would go even further, investing nearly $74 billion into housing and infrastructure alone. Tens of billions more would be invested into economic development and helping Puerto Rico pay off its debt.
The proposal does far more than the $29 billion emergency relief proposal Trump requested from Congress, only a portion of which would go to Puerto Rico.
The bill would make Puerto Rico a test case for the progressive policies and federal investment Sanders would like to see across the U.S. Puerto Rico has been in a recession since 2006 and filed for bankruptcy earlier this year to address its $73 billion debt burden.
From increasing green energy production to improving schools, Sanders' bill paints rebuilding as an opportunity to infuse billions in federal investment into the territory's struggling economy. Though Sanders' proposal wouldn't forgive Puerto Rico's debt, it would pressure Congress to do so. Republicans and Democrats alike — including President Donald Trump — have suggested Puerto Rico's debt should be forgiven.
A spokeswoman for Puerto Rico's nonvoting member of Congress, Rep. Jenniffer González-Colón, did not return requests for comment on the bill.
Carmen Yulín Cruz, the mayor of San Juan who was attacked by Trump after the hurricane and traveled alongside Sanders when the senator visited Puerto Rico, supports the legislation.
"The bill that Senator Sanders has introduced in the United States Congress is a comprehensive plan that provides the blueprint for the transformation of Puerto Rico," Cruz said in a statement. "Senator Sanders also shows a great deal of respect and faith in us when claiming that the recovery or Puerto Rico must be in Puerto Rican hands."
The bill, unlikely to advance in a Republican-controlled Senate, is being unveiled as Sanders' popularity and talk of a presidential run in 2020 has grown.
In 2017, Sanders has consistently held the designation of "America's most popular senator." A dozen Democratic strategists told the Hill last week that Sanders is likely to make a 2020 presidential bid. As chair of outreach for Senate Democrats, Sanders has strengthened his ties to stakeholders in the Democratic Party and increased his foreign policy acumen.
Four-fifths of Puerto Rico's aging and bankrupt electrical grid was destroyed when Maria made landfall as a Category 5 storm Sept. 20. Two months after the hurricane, nearly half the island is still without power.
Sanders' legislation focuses on rebuilding the island's electrical grid while making Puerto Rico more reliant on renewable energy. Only 2% of the island's power currently comes from renewable sources, like solar power, with most power generated from fossil fuels.
Puerto Rico's energy utility, known as PREPA, has been plagued by scandal. Its leader stepped down last week following criticism of the agency's response to Maria. In October, a two-person energy company in Montana was awarded a $300 million contract to rebuild Puerto Rico's electrical grid — a decision Ricardo Ramos, the utility chief who resigned, revoked after public backlash.
The leader of Puerto Rico's energy commission, which regulates PREPA, supports Sanders' reforms and investments, according to the senator's office.
The bill would also improve Puerto Rico's aging infrastructure, putting money into fixing highways, expanding railroads and improving airports.
But the proposal goes further than restoring power and paving roads. It would give Puerto Rico, a U.S. territory, the same level of federal money states receive to cover costs for Medicaid and Medicare. Hospitals for veterans would be improved. Schools and universities, which have graduation rates near the lowest in the U.S., would see major investment.
"This is as close as you can get to a 'Marshall Plan' for Puerto Rico," Ramón Luis Nieves, a former Puerto Rican senator, said in an interview with Mic. Nieves was referring to the plan of U.S. Secretary of State George Marshall in 1948, a post-World War II effort by the U.S. to rebuild Western Europe.
An attorney who chaired the island's senate energy committee until January, Nieves said Puerto Rican leaders have long advocated for an infusion of money from Washington to help Puerto Rico — with the stipulation that the territory would have control over how the money is spent.
Sanders' bill, Nieves says, does both.
Adding another progressive stipulation to the legislation, the bill would encourage no privatization of any government services, like energy production or education, in Puerto Rico.
Some Republicans and leaders in Puerto Rico have suggested privatization could be a way to relieve the island's debt burden. But Sanders' legislation would push for federal disaster relief dollars to be "protected from privatization."
That is in line with Sanders' opposition to PROMESA — the acronym for a piece legislation Congress passed and then-President Barack Obama signed in 2016 — which called for greater control of Puerto Rico's failing finances.
Sanders railed against the Puerto Rico Oversight, Management and Economic Stability Act for "smacking of the worst form of colonialism" by creating a Republican-dominated board to govern the U.S. territory.
The bill unveiled Tuesday would charge Puerto Rican authorities with determining the best ways to rebuild the island's energy grid, infrastructure and further reconstruction efforts. Pushing for debt forgiveness is also tied to the bill's core mission of empowering Puerto Ricans to make their own financial decisions, supporters say.
The legislation is backed by 63 organizations and is being introduced with a companion bill in the House.
Angela Adrar, executive director of Climate Justice Alliance, said there is an opportunity for Washington to empower Puerto Rico to rebuild from Maria with an economy that is environmentally and fiscally sustainable. She argues rebuilding Puerto Rico is critical for the U.S. mainland, which has seen an influx of thousands of Puerto Ricans since Maria hit.
"There's an uprising from the people wanting to seek justice. ... and a need to get rid of the bureaucracy and help people survive, eat and have clean water," Adrar said of demands for local control over rebuilding efforts. "We see it as a great opportunity for what can be rebuilding and recovery from now on out."