Anthony Scaramucci walks back threat to sue college newspaper columnist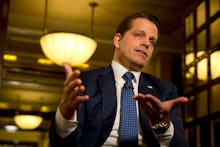 Short-lived White House Communications Director Anthony Scaramucci is walking back his online threat to sue a college newspaper columnist for defamation, claiming he was merely asking for an apology.
Scaramucci was slated to speak at an event at his alma mater, Tufts University, where he serves on an advisory board at the school's Fletcher School of Law and Diplomacy.
But the school canceled the event after Scaramucci's lawyer sent a letter last week to graduate student Camilo A. Caballero and the school's newspaper, the Tufts Daily, asking that it retract "false and defamatory allegations of fact" about his client and issue an apology, according to the Boston Globe.
Caballero's Nov. 6 column said Scaramucci is unfit to serve on the Fletcher School's advisory board, calling the financier an "irresponsible, inconsistent [and] unethical opportunist" who gives "comfort to Holocaust deniers."
Scaramucci's lawyer took issue with those statements, and in the letter said Scaramucci "is ready to take legal action to correct these false and defamatory statements — and to prevent any further damage to his reputation — but will refrain from litigation if you retract the false statements and issue a public apology."
However, Scaramucci is today saying he never threatened legal action, and that he merely "asked for an apology."
In a series of tweets, Scaramucci said his letter to Caballero was an attempt at "a teachable moment."
"The student is an adult. Let his actions stand without any coddling. You can't defame people in America because you don't like their political views," Scaramucci tweeted at Daniel W. Drezner, a professor at Tuft's Fletcher School.
Were he to sue, it's unlikely Scaramucci had any legal case at all, as the First Amendment has broad protection for speech.
In order to win a case, Scaramucci would have to prove that Caballero's comments were not only false but were made with "actual malice" — meaning that Caballero knew the statements were false and published them anyway.